Artistic Edible Displays At Your Wedding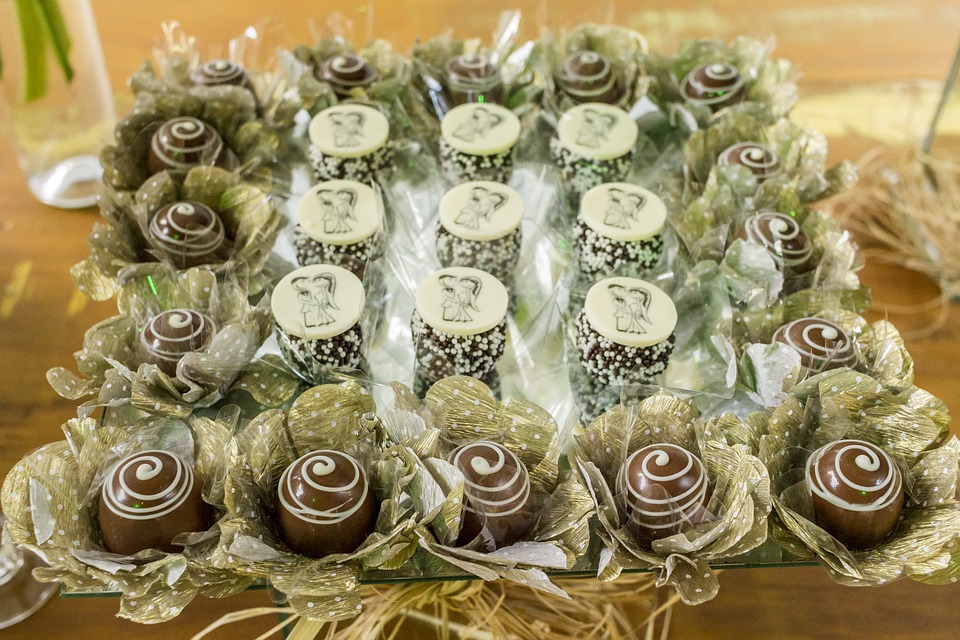 Although it seems silly, artistic edible arrangements are a major wedding detail guests really appreciate. It shows that you've put in the time and effort to think about the type of food you're serving and how you're presenting it. This extra detail will impress even the least observant of guests. Especially because weddings are straying from the traditional, many couples have decided to put less focus on the wedding cake, and more focus on the dessert arrangement itself. This allows for lots of creativity in your selection of desserts and the display. To help you decide, here are some of our favorite ideas for artistic edible displays to showcase at your wedding.
Cupcake Cake & Cupcake Bouquet
When it comes to weddings, cupcakes are always a favorite. Wedding planners are always trying to find new and unconventional ways to feature cupcakes in artistic edible displays. One of our favorite ways is through the cupcake-cake. This is a compilation of cupcakes frosted entirely to form a cake itself. Guests can then take a single cupcake out from underneath instead of having to cut the cake into multiple pieces.
Another unique way to style cupcakes is through a cupcake bouquet. These pretty and elegant displays are great for table arrangements because you can style them to match your wedding theme. Adding edible flowers and cake pops are a nice touch to any cupcake bouquet.
Donut Walls
For a unique and delicious display, try the donut wall. A donut wall is exactly what it sounds like. It is a large board consisting of a selection of donuts each hanging from a peg in the board.  This is a fun and festive touch to any wedding. Not only does it work as an edible masterpiece, but it also doubles as a creative backdrop for the cake table or guest book. Decorate the donuts to match the theme of your wedding and choose from a selection of tasty flavors to provide some variety for your guests. This edible backdrop is truly jaw-dropping and mouth-watering.
Fruit Arrangements
Add natural beauty and sweetness to your summer wedding decorations by incorporating a fruity, festive, fruit arrangement to your centerpiece or food display. Fruit is always a go-to at every wedding because it is a healthy option that everyone will pick from. We know most people will reach for a strawberry, grape, or melon at some time during the night, so impress your guests with an artistic edible arrangement. Try creating strawberry roses, kiwi lotuses, or pineapple and melon daisies. Spice it up with some chocolate covered fruits to keep your guests coming back for more.
Candy Bars & Buffets
Everyone loves candy. Although candy itself can be hard to style piece by piece, it can be fun to arrange in mass quantities. Having a unique candy display will allow guests to pick and choose their own treats, similar to a buffet but also doubling as décor. There are a couple of ways to style a candy bar or buffet. One way is to have a color-coordinated candy bar. Keep to your wedding theme by selecting candies that only adhere to your color palette. Pick a few different styles of glass vases to put an assortment of different candies in, each with their own scoop. For some consistency, purchase the same type of case or jar for each type of candy and customize your candy station with fun decorations and signs. Don't forget to provide plastic bags and twist ties for your guests so they can take a piece of sweetness home with them.
Find The Perfect Edible Displays With The Manor
While these are some of our favorite edible displays, there are so many that you can choose from. Finding the perfect delicious display can be overwhelming, but the wedding planning experts at The Manor are here to help. With over a decade of experience in the wedding planning industry, The Manor can help you with all your wedding needs from finding venues, catering, and even decorating with treats. For more wedding planning assistance, call us today at (973) 325-2060.