Breathtaking Fall Wedding Centerpieces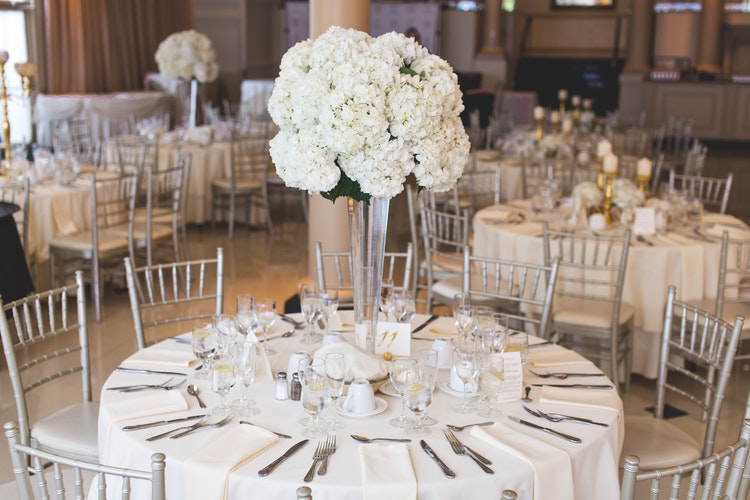 High, low, big, small, flowers, oh my.  Your wedding centerpieces are the perfect opportunity to enhance the mood while incorporating your theme into the venue space. Since your wedding table centerpieces remain in full view for much of the celebration, making them a beautiful aesthetic element for guests to enjoy and add to the festive atmosphere of the wedding.
To inspire your fairytale wedding, the Knowles hospitality team has rounded up some of our all-time favorite fall wedding ideas. Try recreating any of these great centerpiece ideas for your upcoming fall wedding.
Fabulous Fall Foliage
Just imagine your fall palette: bold leaf colors such as orange, yellow, and red pair well with contrasting vases in teal, green, and royal blue for a bright wedding palette. This gives fall brides great flexibility with their wedding colors while still incorporating a seasonal touch.
Pumpkin Power
Nothing says fall like the quintessential pumpkin! They come in many different shapes, sizes, and colors, allowing you to create fall centerpieces with pumpkins of various sizes just for your wedding day. If using pumpkins seems a little plain, consider jazzing them up with a stencil and a little paint. Your monogram, lacy patterns, and solid colors can add interest to these otherwise boring gourds.
Celebrating Striking Greenery at Your Venue
An outdoor venue with alluring greenery will seamlessly highlight the season's most natural features. Coupled with leafy green statements from foliage mixed with common wedding flowers completes the theme, we guarantee this design will be a hit. You may also opt to hang installations with greenery to bring out a more beautiful visual impact in your wedding event space.
Candle-lit Décor
Candles of all types and colors are welcome to adorn the wedding setup. Red and burgundy dahlias, as well as carnations, are an excellent addition to the candle-lit centerpiece.
Indian Corn
Colorful Indian corn can be a great fall wedding centerpiece, especially for fall weddings. Tie corn in bundles with ribbons that coordinate with your wedding colors or add corn to larger centerpieces. Bundles of corn can also be hung on walls easily for quick fall décor.
Let Rustic Fruits Rest on Your Wedding Tables
Let the season's delicate fruits inspire your wedding centerpiece. You can find fruit, nuts, and berries nearly everywhere during the fall season. Some couples choose to mix cranberries and whole unshelled walnuts, while others gather beautiful whole acorns and fill vases with them for a minimal approach.
The colors and warm contrasts make for a unique take on the traditional wedding reception centerpiece, and most of the items are reusable once the celebration ends. You can add leaves and other foliage for visual interest or go simple with a display of only assorted colored apples.
Fierce Fall Flowers Take Center Stage
Rethink the traditional centerpiece with lavish floral décor that extends beyond the traditional decor. Since fall is a transitional season, your options for flowers are endless. Some of the most popular fall wedding flowers are asters, calla lilies, chrysanthemums, dahlias, gerbera daisies, gladioli, marigolds, roses, hydrangeas, sunflowers, and zinnias.
Garland Centerpieces
These wedding table decorations can be even lower than short arrangements and often run the full length of a table. Vines of greenery and blossoms on a long stem can weave along a table to add some texture and decor without being too dramatic.
Choosing Your Favorite Fall Wedding Centerpiece
Using the fall season to guide decision-making for floral arrangements can help create a lasting impact. Gorgeous floral centerpieces sitting on top of each table are an important design element and wedding planners at Knowles Hospitality can help inspire you to have an unbelievable and visually appealing wedding day. Contact the trusted wedding planners at Knowles Hospitality today! We can make bring every detail of your dream wedding to life!