Ceremony Seat Décor Trends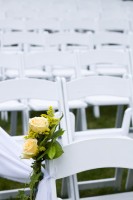 For your outdoor wedding ceremony, you can set an even more magical scene – even in the midst of beautiful wedding gardens – with your choice of ceremony seat décor. When your ceremony setting first comes into view, you and your guests will see a celebrity wedding style of detailed perfection when your seats are wrapped in colorful fabrics, in your wedding décor colors.
Here are the top wedding trends for ceremony seat choices and accents:
Your Basic Ceremony Seat Styling:
First, decide if you'll arrange your ceremony seats in straight rows, or in arched formation to provide a pretty arrangement of chairs. Our wedding planners advise setting up your chairs with plenty of space between rows, to allow wedding guests easier access to their seats.
Choose all matching chair styles to provide a unified look in your ceremony décor.
Choose one color for all of your ceremony seats, such as white wedding chairs, to provide an elegant, uniform look that makes the most of your wedding garden location's natural florals and greenery.
Or, choose all-white chairs for your first two VIP rows where parents and grandparents will sit, and then chairs in color for the rest of your wedding seating.
Chair Covers:
A big wedding trend that's popular with our New Jersey and New York City wedding couples is choosing fabric seat covers. You might choose simple, slip-on chair covers in all the same color, or again, give the first few rows a stand-out color while the rest of the guest chairs are covered with a slightly lighter shade of chair covers. Popular wedding colors right now include pinks, yellows, oranges, purples and blues.
If you'd prefer, alternate chair cover colors by row, such as red and pink alternating all the way to the last row. For elegant wedding décor, we're seeing black-and-white alternating chair cover colors by row. An alternative is cream and pink, and cream and sage green to make the most of our garden wedding setting.
Linen rental companies offer beautiful chair covers in shimmery fabrics, or with embroidered details, hand-sewn crystals or pastilles (little round accents that provide a glittery appearance,) among other designs.
Choose from full-length ceremony seat chair covers, or the new, shorter styles that slip only over the chair back, not reaching to the ground.
Popular chair cover styles now include seat covers with accenting on the back, including bows, ruffles, and crystal pins or rhinestones.
Wedding planners warn that ceremony seat covers studded with crystals and other accents on the front of the chair cover could be uncomfortable for female guests wearing backless dresses, so be sure that tactile accents are on the backs of the chair covers only.
 If your wedding ceremony plans include the need for seats for the two of you, create an elegant look for your own chairs, including beautiful fabric seat covers in a coordinated color to the guests' chairs, perhaps with a different accent such as more glittery fabric, or dramatic draping, lots of sparkle, or your wedding monogram on the backs of your chairs, regardless of the fact that your backs won't face your guests. Wedding photographers will capture this personalized wedding detail when they shoot your photos.