Creating a Mood Board for Your Dream Wedding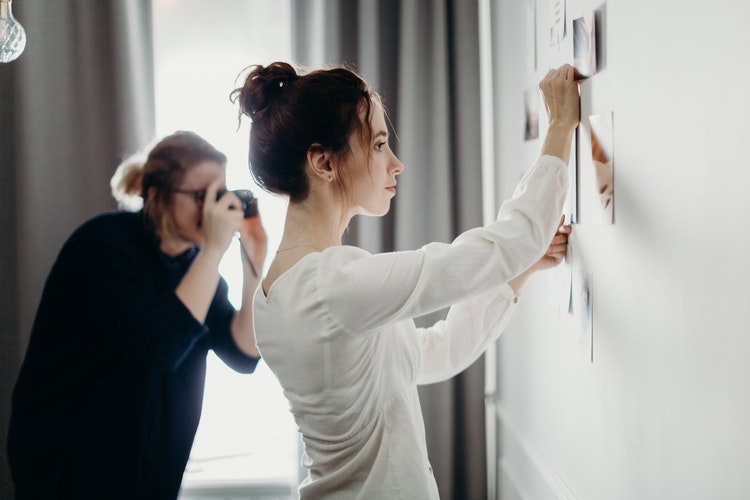 Some girls have been dreaming and planning their wedding ever since they could read and write. If this is you or if you are beginning to map out your big day, a mood board is a perfect way to organize your thoughts and wishes regarding your wedding details. A mood board is a collage of images and texts about a certain topic, like a wedding. Driven college students create them about their dream career, new homeowners build boards about their dream kitchen or living room, and countless brides use them to think of their dream wedding. By doing mood boards, you have a place to draw inspiration and see every detail in one place to decide what looks good together.
The Best Platforms to Create a Wedding Mood Board
The amazing thing about mood boards is that there is no "right way" to create one. Whether you prefer a digital platform or to get out a glue stick and magazine, there are many ways to organize your board. A normal mood board combines different images and texts that relate to what you are focusing on, in this case, a wedding. Pictures of gowns, wedding cakes, venues, etc., are a few examples of what people put on a wedding mood board.
Using Pinterest for Mood Board Inspiration 
On Pinterest, you can create a mood board for your wedding planning and pin different ideas that you see on the main page. What is so great about a Pinterest board is that you can create subcategories for your wedding. So, you can separate your pins into different categories that you can reference later on. A Pinterest board is an untraditional form of a mood board, but it is a more organized way to keep any images capturing your attention.
Using Paper and Magazines Pinterest for Mood Board Inspiration
The old fashion way of scrapbooking a mood board can be a fun activity to do with your bride/husband to bond and also keep a physical mood board. Usually, you can complete this step on some poster board with magazine cutouts of words and images that inspire you. However, you can spice up your mood board any way you please. Using print images, stickers, even glitter, can personalize your mood board and be a good tool to reference when picking out the actual components of your wedding.
Don't Know Where to Start for Your Mood Board?
Wedding planning is extremely exhausting and requires attention to detail. Mood boards help you organize your goal and visuals for your wedding. However, you might be sitting over your computer or poster board, lost on where to start. If you need some help figuring out how to create a mood board that will effectively help you with your wedding planning, we recommend trying out the following tips.
Think about your intended aesthetic of your wedding before beginning a mood board
The point of a mood board is to allow your detail and thoughts to flow together. You cannot start a mood board if you do not know your goal aesthetic or theme. Try sitting down with your partner and discuss what you both are thinking in terms of aesthetic. Do you want a rustic wedding at a barn with delicate lace centerpieces, or do you want a traditional church wedding with beautiful roses on the aisle? Figure out what your goal aesthetic is before beginning your mood board. This will help you decide what to put on the board and make all the details go together.
Have a set color scheme for your wedding
Creating a mood board can be just mixing together random ideas and dream elements of your wedding, but it will not help when it comes time to book venues or buy a dress. Having a color scheme that compliments your aesthetic is great to make the details of your wedding flow nicely together. Also, what is great is that even if you do not have a set color scheme while creating your board, you can pick out the colors of the images on your mood board to incorporate into your wedding.
Keep the mood board somewhere you can see it
What is the point of taking the time to create a beautiful mood board when you tuck it away afterward? Keep your mood board as your background on your computer, print it out and put it on your fridge, or place the poster on your mantle in the living room. This way, you get to see your ideas every day, and you can make adjustments if you see fit. Also, it can be helpful to get others' opinions on how your wedding details can be more cohesive.
Turn Your Mood Board into Your Dream Wedding
Planning a wedding is daunting and exhausting, but it should also be fun. Getting married to the love of your life should not be an idea that stresses you out but gets you excited. Mood boards are the perfect idea to make wedding planning fun and provide you with a preview of your big day. Looking for a venue that will complement the aesthetic of your wedding? Check out Knowles Hospitality venues to host your dream wedding. Make sure to subscribe to our blog for more helpful wedding planning tips.