How Long Does It Take to Plan a Wedding?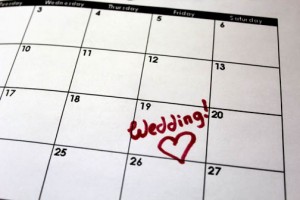 With so many steps to take in planning your dream wedding, including touring the best wedding venues in the state, finding unique venues, searching for the best wedding vendors, and of course, finding your ideal wedding dress and wedding rings, you're likely wondering how long it takes to plan a wedding. According to the wedding industry survey company TheWeddingReport.com, the average couple spends 14 months planning their Big Day.
That survey reveals that couples are tackling the biggest, most important tasks of their wedding plans very soon after their engagement, starting their research right away via talking to other engaged wedding couples about their favorite outdoor garden wedding venues, elegant wedding venues, wedding professionals and wedding details. They're also searching Pinterest and top wedding blogs to get inspiration for their wedding day vision.
Here are the first, essential wedding planning steps completed at the 10 to 12 month mark:
Booking the wedding venue
Arranging wedding catering at their banquet hall
Booking their wedding coordinator
Booking their wedding photographer
Booking their wedding videographer
Booking their wedding entertainers
Buying the wedding gown
Buying the wedding rings
Arranging their wedding rentals
The rest of the wedding details are planned at various stages in a couple's wedding timeline.
One of the key factors in our Northern New Jersey wedding couples' planning is the time of year when they became engaged – such as during the peak engagement season of Thanksgiving through Valentine's Day – and the amount of time until the season during which they'd like their wedding to take place. For instance, if a couple becomes engaged on Valentine's Day and they would like a fall season outdoor wedding,  their planning time may be just eight months until October. They may not wish to wait 20 months until the next year's fall season. So they're among the many couples planning in less than a year, often with a wedding coordinator's help to time their wedding planning tasks perfectly.
We also meet many couples during their wedding venue visits whose jobs determine when their wedding will be, and how much time they will spend planning it. Teachers may wish to marry, and take their honeymoons during the summer when they're off from school, and accountants may wish to marry outside of busy tax season. So they might find themselves considering a wedding date just six months away, rather than waiting a very long time to get married.
Couples might also plan their wedding dates to coincide with the best season at their desired honeymoon location.
There are advantages to both long-term wedding planning and short-term. Planning with more than a year's advance timing could allow the couple to lock in current banquet hall prices before the next calendar year's price increases launch. They might save on their wedding budget by booking their romantic wedding venue now, rather than months from now.
Savings are also available for couples who plan their weddings with less than six months advance notice, since some top wedding vendors offer price breaks on 'open' wedding dates just a few months away. It can be challenging to plan all the beautiful details of a formal wedding or outdoor wedding in just a few months' time, but with an organized, efficient plan, great wedding vendors and the help of experienced professionals at the best wedding venues, it can be done well…without rushing and making hasty, expensive decisions, or forgetting to make certain arrangements.
So the answer to the question is: wedding couples custom-select the amount of time they'll spend planning their wedding. Some of our wedding couples say they were glad they planned in just a few months' time, since it kept them from over-thinking their details, or getting impatient for the big day to arrive. They were glad to tackle more of the essential wedding details in a shorter period of time, and experienced less wedding stress than other couples they knew. They simply created a plan that worked best for them, and they were happy to get to the altar quickly, reaching their goal of being married, not just getting married.