Should I Have My Wedding Outdoors or Indoors?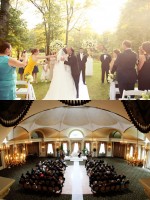 While some brides have always dreamed of having an outdoor garden wedding, and some have known since they were little girls that they would have their weddings in an elegant ballroom venue, other brides are struggling to decide on their perfect style and location of wedding.
If you're among those brides weighing both indoor wedding and outdoor wedding options, here are some of the top considerations of each type of wedding venue:
Outdoor Weddings:
Outdoor garden wedding venues are already decorated in beautiful splendor, with lush trees and gorgeous, flower-filled gardens…providing an already-bloomed venue that you don't have to spend a large portion of your wedding budget to decorate. Master landscape artists and gardeners have created a magical garden wedding venue featuring beautiful seasonal blooms, as the setting of an outdoor wedding ceremony.
Outdoor wedding venues in New Jersey are available for most of the months of the year, from popular springtime weddings to peak season summertime weddings to autumn-foliage beautiful fall weddings, with different 'looks' for each season. Plus, portable cooling and warming units can create a very comfortable atmosphere for all of your guests in any season.
The best outdoor wedding venues provide several different spaces for your wedding's stages, from an area for your ceremony, to an area for your cocktail party and space for your reception.
Outdoor wedding venues create the opportunity for breathtaking wedding photos.
Outdoor spaces are vast and open, providing an airy atmosphere for your ceremony and reception.
Outdoor garden wedding venues are often filled with vividly-colored butterflies and the occasional birds adding extra magic to your wedding day.
Outdoor weddings provide a unique style for guests to enjoy, making your wedding different from indoor weddings that guests have attended that season.
Outdoor wedding venues transform their scenery from daytime into nighttime, with colors of your décor changing, lighting effects coming on as the sun sets…giving you two different wedding setting 'looks' as your celebration progresses.
Indoor Weddings
Banquet halls offer the spectacular look and feel of their elegant architecture and design, which can be enhanced by florals and special effect lighting to create a spectacular scene for your wedding.
Indoor event venues offer full protection from anything the weather might do, from a cold and windy day to rain to snow to humidity. The atmosphere is perfectly set to your and your guests' comfort.
Indoor banquet halls provide the possibility for an unlimited menu, without worry about heat or humidity's effect on certain types of dishes.
The best wedding venues offer different rooms for the different stages of your wedding, from a banquet room for your cocktail party to a larger ballroom for your reception, and other rooms throughout the wedding venue where cigar-rollers might be stationed, or where guests can explore with their champagne in hand.
There are clearly benefits to both types of wedding venues, and for that reason many of our northern New Jersey and New York City wedding couples often decide not to decide. They select the best in New Jersey catering banquet halls that offer both indoor and outdoor celebration space. They often plan to have their ceremony in an outdoor garden setting, their cocktail hour outdoors as well, and then their reception inside in the elegant ballroom setting. It gives them the best of both worlds, and if inclement weather should occur, the wedding venue's event planning team can easily relocate the outdoor ceremony into an indoor banquet hall space, taking advantage of the splendid décor of the venue itself, while mixing in floral and greenery décor.
Wedding catering is easily prepared and served in each type of wedding venue, so you might decide to arrange for cocktail party stations to be positioned indoors and outside for your guests' choice.
Photos may also be taken both indoors and outside, giving you the chance to capture the beauty and elegance of your wedding venue's most beautiful features and scenery.
This may be your deciding factor: Think about the season of your wedding, and which type of location might be most comfortable for your guests. A hotter season might convince you to hold your wedding in an indoor ballroom space, for instance, just to be on the safe side. No matter which type of location you choose for your wedding venue, it will be designed to your specifications and your dream wedding vision, with guests delighted and you having the best time of your life.