How to Honor Parents at Your Wedding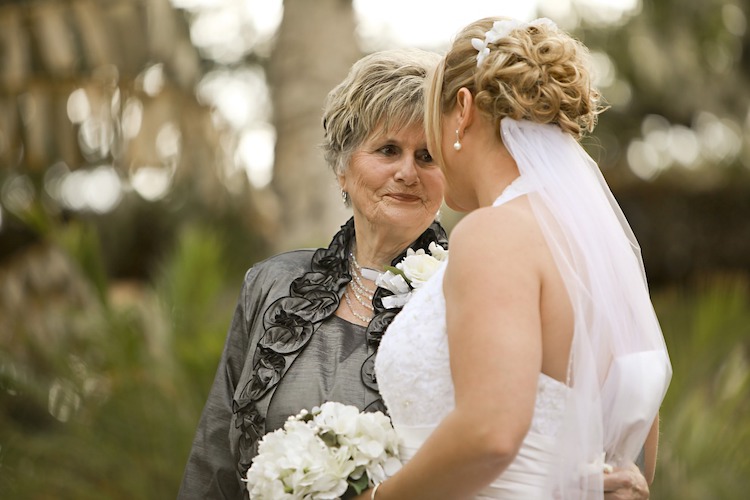 Showing your appreciation for your parents during your wedding day is a sweet token of gratitude that your parents deserve. These are the people who made you who you are; and without them, you probably wouldn't be standing up at that altar. Their hard work and dedication to raising you earned them something extra special during your wedding.
Whether living or deceased, there are numerous ways for you to honor both sets of parents at your wedding. This celebration is a wonderful time to say thank you for everything they have done for you. From small to grand, take a few of our creative ideas on how to honor your parents at the wedding.
Lace from Mom's Dress
Lots of brides chose to repurpose their mother's wedding dress as a small detail in their own wedding gown. If you don't want to add details to your actual dress, there are lots of other ways to incorporate it. For example, you can use it as the flower girl's dress, wrap the lace around your bouquet, or add it into jewelry such as earrings or a necklace. This honorable idea not only shows appreciation to your mom while simultaneously honoring family traditions.
A Heart from Dad's Shirt
To honor your father, take one of his old shirts and have it sewn into your dress in the shape of a heart. You can put this addition on the inside of your dress to keep it hidden. Even though it isn't seen by the average guests' eye, a little piece of your dad will be with you throughout the whole celebration, and he will surely appreciate it.
Photo Charms
Take a small photo of your mom and dad, perhaps a photo from their wedding day, and insert it into a small charm. There are many places you can put this charm to honor your parents. Attach it to the bride's bouquet or the groom's suit. Carry it with you throughout your wedding celebration to show honor and appreciation for your parents.
First Look with Parents
You've probably seen videos of the first look between the bride and groom, where the groom turns around and is greeted by his dressed-in-white bride, both in heartfelt tears. Trending today is a first look with the parents! Specifically, at least with the father, it is becoming more popular for the bride to surprise her dad in her dress with a first look.
Read a Poem or Letter Dedicated to Your Parents
During your wedding ceremony, read a touching poem or say some words from the heart dedicated to your parents. To honor both sets of parents, have the bride read to the groom's parents and vice versa. Not only will it have the parents in appreciative tears, but also signifies the unification of the two families as one.
A Special Speech
Traditionally, giving a speech at a wedding is a big honor. If your parents don't mind being in the spotlight, asking them to give a special speech will show how much you appreciate and love them. Giving them a unique focus of attention is a great way to honor your parents.
On the other hand, if your parents aren't comfortable with public speaking, why don't you prepare a special speech for them yourself! Carve out a time during the celebration when you can take the microphone and dedicate a speech to your parents.
Schedule a Photo Session
Wedding days are filled with hours of capturing photos with friends, family, the wedding party, and more. To honor your parents, schedule a special time for them to be included in photos. Whether it is all-together or pictures of just the two of them, give them their own time in front of the camera.
Celebrate Their Marriage with an Anniversary Dance
Anniversary dances are a quickly growing trend. The MC or DJ has all the couples come together on the dance floor to celebrate each of their marriages. They will slowly eliminate couples by asking those under 5 years to sit, then 10 years to sit, and so on. If your parents have been together for an especially long time, this is a great way to honor them on the floor.
Show Your Appreciation
In whatever ways you decide to honor your parents at your wedding, be sure to take the time and effort to really show them you care. They have played a huge role, if not the biggest, in getting you where you are today. Without them, you likely wouldn't be marrying that special person. Incorporate some creative ways to honor and appreciate your parents with gestures big and small. Need help planning your upcoming wedding extravaganza? Contact the specialist at Knowles Hospitality to customize your fairytale celebration.