Pre-Wedding Moments for the Parents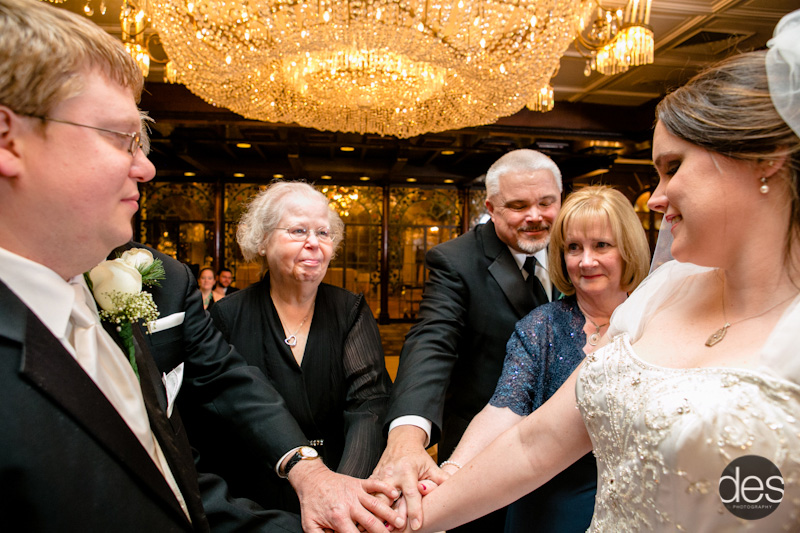 When you awake on your child's wedding day, make the most of the hours before the ceremony gets underway, taking mindful steps to experience the start of this wonderful day. Too many wedding parents race through the early hours of the wedding day, and it all becomes a big blur when they look back on these precious hours. They missed the chance to turn this pre-wedding hours into something very special.
To help you make the most of your child's wedding day, we've collected some ideas for starting it off well, with sentiment and savoring of your well-planned details:

Don't climb out of bed just yet. And if you have gotten out of bed, climb back in. Take a few moments to absorb how momentous this day is, for your child, for your child's partner, for you, for your family, and for how their love has brought so many new people into your life as well. Then, as gratitude experts would advise, think about your own blessings in life, starting the day with a positive and appreciative mindset that's more likely to embrace awareness of the wedding details.
Take your moments alone. If you like, or need, quiet at the start of your day, take your cup of coffee to a quiet space such as your front steps if your kitchen is filled with exuberant bridesmaids. Explain to your child that you're just grabbing a moment of silence for a little prayer or meditation time so that no one experiences wedding stress about your slipping off alone.
Skype with far-away loved ones. In the more quiet hours before the rush of pre-wedding photos, you can better connect with loved ones who weren't able to attend the wedding, making their day and also making your day all the sweeter.
Pose for your own set of parents' Before and After wedding photos, perhaps with the two of you in your sweatpants and tee shirts, or in your pajamas with messy hair to start and then the After photos in which you're styled and perfected in your wedding fashion and wedding beauty looks.
Take portraits of your own, using your own camera or having a friend snap your couples' portraits while the wedding photographer is taking photos of the bride and bridesmaids or of the groom and his men. Stick close to their location, though, so that you don't cause wedding drama by disappearing out into the garden for wedding photos of your own. There will be plenty of you throughout the day, but these early hours when you both look your best are ideal for your own set of solo and couple photos you can access and post to social media right away.
Think twice about looking through photo albums or watching video of your child if you're already too emotional. Even if you planned a look back on the wedding morning, if your wedding day emotions have gotten to you, put this walk down memory lane off for another day.
Write a letter to the couple. Starting with 'It's your wedding day, and we're writing to you about what we love about you both…' a heartfelt letter of gratitude, love and your most wonderful wishes for the two of them will be all the more touching and priceless to the couple, knowing that you wrote it on their wedding day.
Write a letter to each other. Tell your partner how much you have enjoyed parenting your child together, all the good qualities you know your child has gotten from your partner, and how glad you are to enjoy the future together with your partner.
Get a moment of alone time with your son or daughter. He or she will, of course, be in demand that morning, but even just a quick hug or clink of champagne glasses is that one shining moment other wedding parents wish they thought to plan.