How To Set The Date Of Your Wedding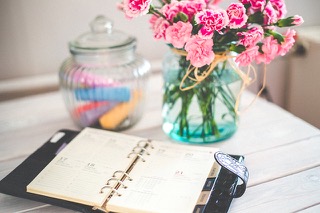 After the blissful excitement of getting engaged, not too soon after will friends and family begin to ask, "When's the wedding?" With the national average engagement lasting about 15 months, selecting the date of your wedding can be stressful. Before you mail out your save-the-dates, the wedding planners at The Manor share important factors to consider in this step-by-step guide to selecting the date of your wedding.

Which Is The Best Season To Wed?
Deciding on what to get married is the premise for wedding planning. After all, the season you choose will affect your venue location (especially outdoor), your wedding theme, décor, bridal party attire and at times—transportation. Wedding experts advise choosing your season based on the ambiance, tone, and setting that you wish to achieve.
For couples that gravitate towards a more free-spirited, bright, airy setting or are looking for an outdoor or beach venue, a summer wedding can be filled with perfect temperatures for celebrating outdoor all evening. If you feel summer may be too hot, then perhaps the soft romantic colors of spring wedding surrounded by fragrant blossoming flowers, tickles your fancy. Alternatively, couples and guests can cozy up amidst snowfall with a winter wedding sprinkled with love of holiday spirit. For a perfect backdrop of foliage and rich warm colors throughout your entire wedding décor and bridal party attire, the magical harvest season of fall offers couples crisp nights and seasonal favorite treats. No matter the season you and your partner choose, it should be one both of you adore.
Should You Marry On A Memorable Day?
One method couples use to select their wedding date is to make the day even more special by getting married on an anniversary. This may be selecting the date you first met your future betrothed or exactly one year from the day you became engaged. For a truly symbolic date, you can have to honor of marrying on your parents anniversary. Whatever the reason, try choosing a date based on a milestone in your relationship to make your wedding even more romantic. Keep in mind that you may not be able to get married on the exact date you choose; the venue may be booked or the day may fall on a Monday. It is also endearing to share the significance of your wedding date with your guests either during your ceremony or on the invitation.
What Are The Most Cost-Effective Wedding Dates?
Your wedding budget most certainly will come into play depending what date you wish to get married. Peak wedding season occurs between May and October and choosing to marry during these months will be most expensive. However planning a wedding during the off-season months of November, December and January will be less expensive and other couples will not compete at top dollar.
In addition, the day of the week you choose to marry will also affect the price. Saturday night is in high demand and couples can expect to pay a significant amount more. Meanwhile, getting married on a Friday wedding typically is less expensive, assuming you do not have guests traveling from afar. Choosing to marry on a Sunday is also growing in popularity; however, keep in mind for guests with children or the majority having to work the following day.
Should You Get Married On A Holiday?
Significant Holiday weddings are not only trending, they most definitely add spirit to your big day. For couples celebrating Christmas, a December wedding creates a cozy and magical setting with of course endless decoration. New Year's Eve weddings create the ultimate party with sparklers, a countdown, and champagne. Couples can also play off the romance with bouquets of red roses Valentine's Day wedding or carry a red, white, and blue theme and fireworks for a memorable Fourth of July wedding.
Holiday weddings have benefits as well as setbacks. An added benefit of getting married on a holiday is that they often fall on long weekends, which makes it easier for guests to attend and even celebrate all weekend. Many couples also opt to marry on weekends such as Labor Day as it is both a long weekend and less expensive.
On the contrary for guests celebrating on holiday weddings hotels, flights, and car rentals can also get very expensive. Holidays can also make venues, seasonal foods, or flowers more expensive. For example, roses are more expensive around Valentine's Day, and having an absorbent amount at your Valentine's Day wedding may be over budget.
What Calendar Dates Are Not Appropriate To Get Married?
There are definitely dates that you will want to avoid. For example, from a personal standpoint, your work busy season is not the best time to tie the knot. It can be highly stressful and you may find it difficult book your honeymoon. Other dates you may want to avoid are certain religious holidays, tax day, Father's Day, and Mother's Day.
Pick The Perfect Wedding Date
In addition to these suggestions to be courteous, you may also ask your closest guests about any conflicting dates, and plan accordingly. If you are conflicted or simply indecisive about your wedding date, ask your loved ones such as parents, siblings, or selected bridal party for their opinion. The wedding date may be the most important aspect for you to plan. Contact The Manor today to best plan the countdown to your wedding!