How To Have A Unique Wedding Guest Book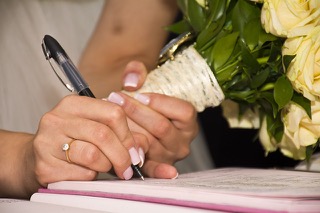 In a world inspired by thousands of creative ideas on social networks, the usual wedding guest book seems rather plain and boring. For your upcoming wedding, why not create a beautiful twist on a beloved tradition? The wedding planners at The Manor share creative ideas for how to collect signatures with these popular wedding guest book trends.
Thumbprint Guest Books
Your wedding guest book can feature something more unique than just the names of your guests. Instead, why not make your guest book more personal with their thumbprints? Creating a wedding guest book that is 100% unique by using thumbprints to show guests just how special they are. After all, every fingerprint is one-of-a-kind like each of your family members and friends. When revamping your wedding guest book, be sure to choose paints that match your wedding colors. But make sure you buy washable paint so that your guests can clean it off before party time. You may also want to have wipes on the table to remove painted fingers.
Advice Coaster Guest Book
For a practical guest book, try stepping outside the box by not having a book at all. Instead of a traditional guest book, use coasters. Your guests can write their best advice for the newlyweds on a blank coaster with a permanent marker, and then have them sign their names at the bottom. For more fun, ask guests to recall and jot down a fun memory with the couple. Since coasters are practical household items, you can use them for years to come when entertaining in your new home.
Shadowbox Guest Book
Do you enjoy creative Do-It-Yourself (DIY) projects? Consider creating a shadow box guest book to hold signatures of all your guests. You can choose to fill the shadow box with enough decorative items each guest will sign. Typically, wood pieces in the shapes of hearts or rings, or wine corks go with any design style in your home. When your guests enter cocktail hour, have them sign the cute wooden pieces and drop them into the shadow box.
A Signature Record
Music lovers will absolutely love this idea. Perhaps you have fond memories of listening to vinyl records growing up. Or maybe you have a taste for old classic hits. You can have all guests sign a vinyl record or two, and then display it in your home. This piece is not only creative and elegant, but it also showcases a shared hobby between newlywed couples.
Anniversary Wine Guest Book
Couples you can invest in your future and happily look forward to many upcoming anniversaries with a unique wine bottle keepsake. You can purchase 4 nice bottles of wine to represent important milestones such as the first, fifth, 10th and 20th-anniversary. You can purchase wine bottle labels that wrap around each bottle. Next, have your guests sign and leave messages. Anniversary wine bottles are a delight for newlyweds to look forward to because it will remind the newlyweds of their loved ones on their perfect wedding day.
Creating Your Unique Wedding Guest Book
When it comes to creating a memorable wedding guest book, you can have tremendous fun brainstorming unique and creative ideas. Whether representing a combined hobby or decoration, a clever and meaningful way to display guest names will make looking back on your day extra memorable. Contact The Manor today to make your wedding dreams come to life.