New Trends in Bridal Fashion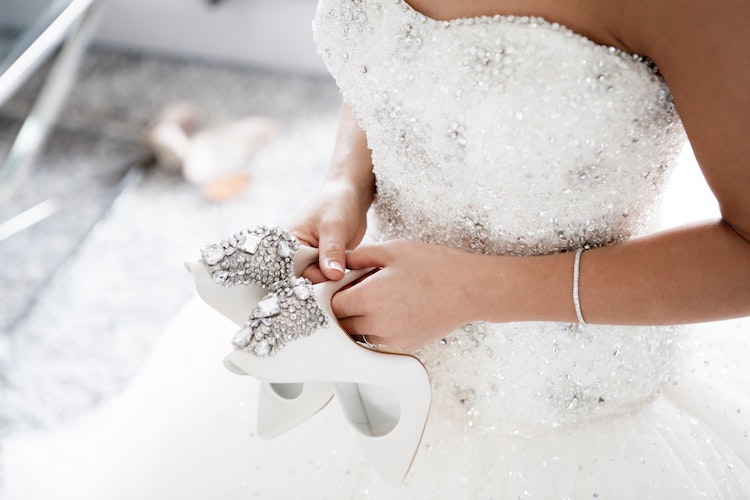 Every bride has a unique style, and she should incorporate that into whatever she decides to wear at her wedding. However, brides should never overlook the latest trends since they influence how we develop our style. It is always worth looking at something new because you may just fall in love with it. Contemporary bridal fashion trends keep popping up every day, and here are some popular ones that you should keep on your radar.
A Return to Retro
Vintage styles made a much-needed resurgence in designers' collections.  High necklines, puffy sleeves, and lacy trains all returned to the runway, and we love it. A few years ago, people would glance back at family photo albums and laugh at these styles; but now, we view these styles as "romantic" and "timeless."
All trends go in and out of style, and it may be worth looking through your grandmother's closet before spending a fortune on the latest bridal fashion trends.
Live, Love, Lace
Lace is no longer just for tablecloths and curtains; it is now a huge part of the wedding fashion industry. Brides wear it on their dresses, veils, and even in their bouquets. You can also layer it in beautiful, dramatic ways, over a pop of color or with a bit of sparkle. Lace and matching appliques can also mix to give a unique 3-D look that will surely capture eyes when walking down the aisle. What once was boring is now unique, and we hope it never goes away again!
Sleeves
Short, long, half, puffy, bell, fitted; no matter what the sleeve type is, we want it. Sleeveless dresses are not going away, but sleeves are making a comeback. They flatter all body types and bring a fresh look to any wedding dress. Even better, each material creates a whole new vibe for the sleeve.
They can be lace, sheer, solid, and really, anything you want. Almost any neckline will look stunning when paired with sleeves. No matter the length, color, or style, we're jumping with glee to see more sleeves in the world of wedding fashion.
No More Glitz & Glam
Say, "goodbye" to big crystals, and "hello" to sequins and glitter. Bridal fashion recently shifted away from bulky and heavy stones and started looking for a different approach to sparkling details. Nowadays, designers combine lace and sequins. Do not worry, sparkle lovers: this bridal fashion trend is here to stay. Designers won't abandon flashy elements, they just keep finding new ways to give us what we want. Sparkle is never going out of style, it is evolving, and we are on the edge of our seats watching what it does next.
Simple is the Way to Go
People no longer consider plain white wedding dresses boring anymore; they are now classy, and we agree. A simple dress means that the bride is the statement, as it should be. Ball gowns, mermaids, trumpets —all types of wedding dresses look beautiful in crisp white. Simple may sound dull, but it's not at all with how designers are making them today.
Skipping the White Dress
Life is always better in color. In 2022, designers let the rainbow guide them, and it's about time. From blushes and nudes to blues and reds, no color is off limits. Don't worry, if you don't want to go full color, there are also white dresses with beautifully colored appliques that bring a real pop to your dress. There is so much to do with colors. You can make them bold, subtle, and everything in between. Make the term "blushing bride" a reality because you can!
Pants & Jumpsuits
The world of bridal fashion is no longer confined to dresses. With bridalwear suits and jumpsuits surging in popularity, our perception of quintessential bridal looks evolved. You can create your own wedding outfit that is either structured or loose, simple, or bold. Some brides go with lace, while others go full sequin. No matter how you make your non-dress wedding outfit, your guests will see your choice as a power move.
Transformable Outfits
Who wants to buy two separate dresses when you can just buy two in one? Don't have the money to get a second outfit for your reception? There are so many options for removable garments, so you can still wow your friends without breaking the bank. They make removable skirts with pants, shorts, or just a shorter skirt underneath, and even removable sleeves! The best part is that even though they are removable, they do not look like it. No matter how you wear it, it will look beautiful.
Sheer Brilliance
From sleeves and bodices to skirts and long dresses — solid is out, sheer is in. Sheer styles commanded the runway and it's just getting better. This look is not for the faint of the heart. This look is bold and beautiful. It can be romantic with a sheer corset, or loud if you decide to go for a glitzier style. Whether you go with a peekaboo lace or full sheer, we know you will impress the crowd.
Beyond the Veil
Veils are so unique: sheets of lace, chiffon, birdcages, dripping in beads, and now even hoods and capes. These beautiful garments were a staple, but now they are no longer necessary. Rather, guests see them as a nice touch. In fact, fewer brides wear them. You don't need to feel suckered into buying a veil when you do not want one. Who wants to mess up their hair anyway?
Embracing Bridal Fashion Trends in 2022
No matter how many trends you try, the most important thing is that you love what you choose as your bridal outfit. Whether you decide to walk down the aisle in a trendy suit or a classic ball gown, you will look beautiful on your special day.