New Trends in Wedding Dress Structure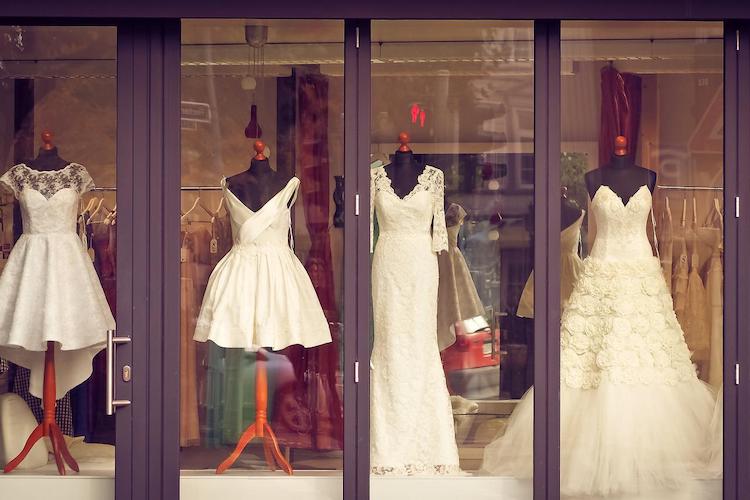 Bridal fashion trends are constantly evolving. Some trends start to grow and fizzle out quickly, some become long-standing classics, and some even come back from the dead. Wedding dress structures typically shake up the bridal fashion industry. When brides-to-be consider dress structure, they usually think of ball gowns or sweetheart necklines—but that's only the beginning.
Recently the wedding planners at Knowles Hospitality noticed so many exciting innovations to wedding dress structure, as well as some retro favorites that we believe will make a strong comeback. Use these trends to help you during your hunt for the perfect wedding dress.
Sleeves on Wedding Dresses
Short, long, half, puffy, bell, fitted; no matter the sleeve style, we want it. Sleeveless dresses are not going away, but sleeves will make an undeniable comeback. Sleeves on a wedding dress flatter all body types while still giving brides a whimsical appearance. Each material—whether lace, sheer, or solid—creates a new vibe for sleeves. They can also be paired with almost any neckline and look stunning. No matter the length, color, or style, we are excited to see more sleeves popping up in the wedding fashion collections.
Try Pants Instead
Bridal fashion no longer solely focuses on wedding dresses. More brides are starting to be seen in suits and jumpsuits and redefining the idea of a bride. Bridal outfits can be structured or loose, simple or bold, and completely customizable. Some brides go with lace, while others go full sequin. No matter how you style your non-dress bridal outfit, it will always be a power move.
Bye, Bye Veils
Veils have always been an essential feature in wedding dresses; sheets of lace, chiffon, birdcages, dripping in beads, or even hoods and capes! But modern trends suggest that brides-to-be plan on ditching the veil. Rather, they are now seen as a nice touch.
Nowadays, it seems that fewer brides are wearing them, and we don't know why people haven't dropped them before. So don't feel pressured into buying a wedding dress veil, especially if it clashes with the look you imagined. Who wants to mess up their hair or gorgeous face anyway?
Sheer Bliss
Solid is out, sheer is in. From sleeves and bodices to skirts and immaculate gowns! Sheer is on the runway, and it doesn't seem to be getting off any time soon. This look is not for the faint of heart – it's bold, beautiful, and quintessentially romantic. A sheer corset and puffy sleeves can make a beautifully soft look, but if you want to be loud you can decide to go with a sheer skirt for visible legs. Whether you go with a peekaboo lace or full sheer, get ready to have all eyes on you as you glide down the aisle.
Transformable Dresses & Outfits
Who wants to buy two separate dresses when you can just buy two in one? Don't have the money to get a second outfit for your reception? There are now so many options for removable garments so you can still wow your friends without breaking the bank. Designers make removable skirts with pants, shorts, or just a shorter skirt underneath, or even removable sleeves!
If you just want a change in style from ceremony to reception, you can get a detachable tulle overlay or train. The best part is that even though they are removable, they don't look like they are! No matter how you wear it, we guarantee that you will look beautiful on your big day!
Look & Feel Your Best
No matter what you decide to wear, remember to take a breath and try enjoying your celebration. It's a once-in-a-lifetime event after all. Make your event truly special and memorable by celebrating it with Knowles Hospitality.
As northern New Jersey's No.1 wedding planning team, we'll flawlessly bring every detail you envisioned to life. Dial (973) 731-2360 today to schedule a tour of our two properties: The Manor & Pleasantdale Chateau.