Photo Booth Trends and Tips for Weddings and Parties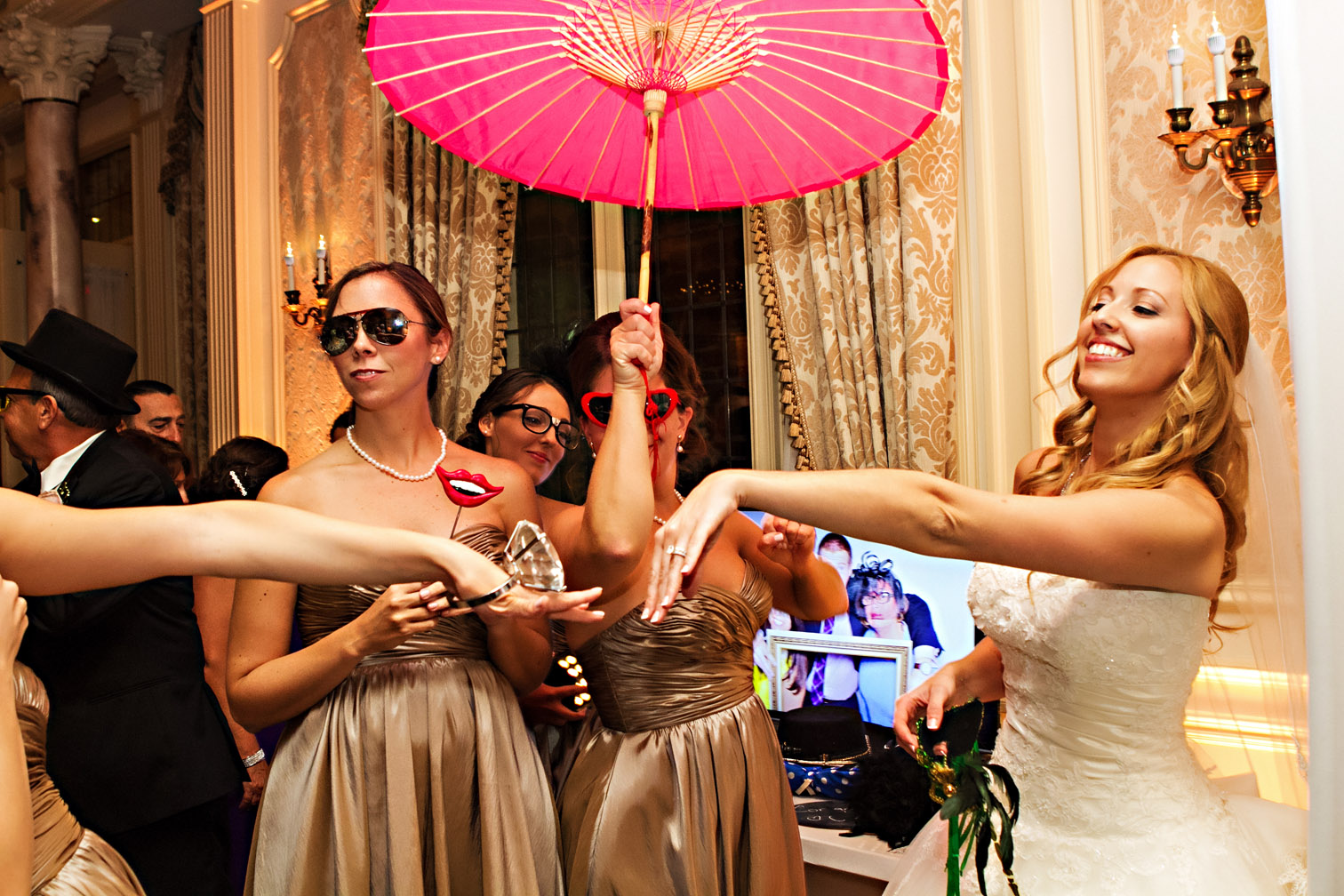 Wedding and party guests love discovering a photo booth at a celebration, since this creates such wonderful opportunities for fun and guest interaction, plus fabulous photos from your event. Photo booths themselves have been around for a long time, but as with most things in the entertaining sphere, they have evolved into far more festive appearances, and innovations in technology have also given them new life.
Here are the top new trends in photo booths for weddings and parties:

Our favorite NJ photo booth rental agencies have stocked up on new photo booths, many of which can be color-coordinated to your event via LED lights tuned to your wedding colors or party color-scheme. A decorated photo booth creates a coordinated focal point in your ballroom, and dials up the impression factor in your party space.
Larger photo booths are in style now, enabling more than just two people to gather together, with their photo booth props, for fun group photos. You'll find 5'x7' and 8'x8' photo booths plentiful at photo booth rental companies, and you may find larger enclosed photo booths for even more space.
One photo booth trend we love is the open-air photo booth, which may be a photo booth structure with no walls, in front of which guests pose against a backdrop…or it may be an entire separate room at your NJ event venue that has been styled with couches, tables, chairs, and décor, allowing you to personalize your photo booth scene, perhaps matching it to your wedding theme or party theme.
Photo booth backdrops may be scenes from an exotic city, a lush field of flowers, a tropical beach or other setting that suits your theme.
Green screen backdrops for photo booths allow your photo booth company to create a custom backdrop for your photos, adding a hi-tech element that dials up guests' photo booth excitement, and creating fabulous keepsake photos.
In the world of photo booth props, many NJ photo booth rental companies come prepared with a wide range of props, from oversized sunglasses to hats to masks, feather boas, oversized moustaches and other trendy photo booth props. And you can also supply more of your own, selecting from the many photo booth props at Etsy, craft stores and your own belongings.
A top trend in photo booth rentals is the hand-held message board, which may be a chalkboard or white board on which your guests can write their own chosen messages. 'Thought bubble' signs may be pre-printed with messaging for guests to hold above their heads as they strike a creative or funny pose.
Video photo booths allow guests to capture themselves in movement, perhaps dancing or singing, and of course photo booth kiss shots capture the moment. Some photo booths are equipped to create slow-motion video as well.
Social media-integrated photo booths allow your guests to step to the social media sharing kiosk, view their photo booth pictures, and share instantly to their choice of social media platforms like Facebook, Twitter, or Instagram, and also email their photos to themselves or to friends.
Instead of those thin photo strips you've seen at carnival photos booths as well as photo booths at weddings and parties several years ago, now you have the option of larger 5"x7" print photos printed right at the photo booth in a matter of seconds.
You can arrange for your photo booth company to project your photo booth photos in your ballroom for guests to enjoy during the dinner or dancing hours.
Photo booths are a trend that's sure to stick around for your NJ wedding or party, adding even more fun and personalization, as well as theme-enhancing, to your celebration.