Proper Etiquette for When to Send Out Your Wedding Thank You Notes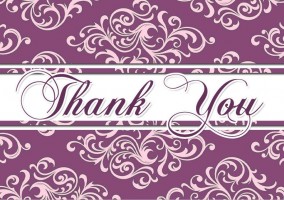 As a popular New Jersey wedding venue, we've received so many gracious thank you notes from our many lovely couples. Some have come quite quickly and others in good time. Regardless of the timing or the manner in which they come, we were are always appreciative, but never expecting to receive these thank yous.  Your wedding guests, particularly those who have given you a wedding gift, however, will most likely be anticipating a thank you in response.  And proper wedding etiquette dictates that sending a timely thank you note is a must.
Because the note writing process falls after the day itself, it is one of the more overlooked parts of your wedding duties.  But it is no less important, because your response is a direct reflection on you (and if you wait too long, you may soon start hearing from your mother or mother-in-law that it is a reflection on them as well).  Good timing also goes a long way to show your guests that you are genuinely appreciative that they were part of your special day.
So then, how soon after your wedding day should you send your thank you notes?
Believe it or not, this is a strongly debated topic, particularly among couples with busy, demanding lives. And we know well that the first few months after a wedding can be quite hectic. That said, while we'd like to assure you that the often-heard grace period of one year is acceptable, our suggestion for proper etiquette is to err on sending them much sooner.  Emily Post and top wedding experts recommend that all wedding thank you notes should be written within three month of receiving the gift, and others suggest even quicker.
Remember, the longer you take to send out a thank you note, the more pressure you'll feel to make it extra special and heartfelt.  If you know you'll have to send them out anyway, then it's best to plan your schedule for sending thank you notes while you're making all your other arrangements for your wedding.
If you think of the thank you notes as an extension of you wedding planning, it will be much easier to set a plan and stick to it. This will help to avoid any undue angst or delay. As a NJ wedding venue, we know our couples' lives are quite busy, but if there's a real deadline in place and time scheduled for it, the process will be a bit easier.
Some brides plan to incorporate a wedding photo as part of the thank you, and even as the image on the envelopes' stamps. But remember, the time it takes to get the photos from your wedding photographer and have them printed will only push back how soon you'll be able to send out the letters.
One way to make it easier to hasten the thank you note process is to order your thank yous at the same time you have your invitations printed.  They'll coordinate perfectly and you'll have them at the ready as soon as you return from your honeymoon (if you have one immediately after the wedding). If you have a sliver of time before the wedding, you can even get a head-start by addressing the envelopes for those you're sure will be attending your wedding.
Guests may be impresses by the extra touches, but at the end of the day, they'll be just as impressed by a quick response.