Sip On These Delicious Cocktails at Your Wedding Reception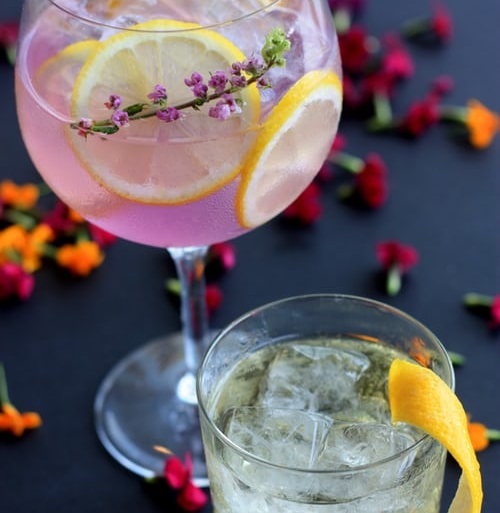 One way to ensure your guests are having a good time at your wedding is to provide free alcohol. Open bars are one of the most popular features at weddings and are definitely worth the cost. A fun way to spice up your open bar is to provide a selection of personalized cocktails. After deciding what drinks to serve, think about naming your drinks after pets, important locations, or significant words. Here is our compilation of seasonal cocktails that will get your guests out on the dance floor and feeling good all night long. 
Winter Wedding Cocktails
Warm up your guests with these three flavorful, seasonal cocktails that will surely put them in the holiday spirit.
Pomegranate Wedding Present
1 oz. pomegranate liqueur or 3 tbsp. pomegranate juice
5 oz. champagne
fresh rosemary sprigs
She's Hot Chocolate
6 oz. hot chocolate
1 oz. Kahlua
1 oz. Bailey's Irish Cream
candy canes
whipped cream
Apple Cide-car
2 oz. apple cider
1 oz. bourbon
2 oz. ginger ale or ginger beer
Apple slices
Spring Wedding Cocktails
Watch your guests break out of their shells with these three blissful, berry drinks, featuring flavors of lemon, peach, and mint.  They are perfect for any spring wedding.
Spiked Strawberry Lemonade
2 oz. of your favorite vodka
2 oz. strawberry simple syrup
5 oz. lemonade
fresh strawberry slices
Blushing Bride
2 oz. peach schnapps
3 oz. champagne
½ tbsp. grenadine
Basil and Mint Julep
2 oz. Maker's Mark
¼ oz. grapefruit juice
2 fresh chocolate basil leaves
3 fresh mint leaves
Summer Wedding Cocktails
For any outdoor summer wedding, these drinks are a refreshing touch to your open bar that is sure to have your guests coming back for more.
Watermelon Mai Tai
3 tbsps. white rum
2 tbsps. Saint Germaine Liqueur
1 lime juiced
½ cubed watermelon
1 tbsps. sugar
Bourbon Peach Sweet Tea
2 oz. bourbon
2 oz. peach preserves
1 oz. fresh lemon juice
dash of Aperol
sweet tea to top it off
Blueberry Ginger Mule
1 oz. lemon vodka
1 oz. straight vodka
2 oz. blueberry cordial
ginger beer
Fall Wedding Cocktails
Get cozy and crazy with these last three fall wedding cocktails featuring signature fall flavors including apple cider and cranberry.
Cider & Stormy
2 oz. apple cider
2 oz. dark rum
4 oz. ginger beer
1 lime halved
Deep Cranberry Bliss
1 ½ oz. cranberry vodka
¾ oz. ginger syrup
¾ oz. spiced apple shrub
½ oz. fresh lime juice
1 dash spiced apple bitters
The Nutty Aunt
1 oz. cherry vodka
1 oz. apple juice
¼ oz. Amaretto liqueur
¾ oz. fresh lemon juice
dash of Angostura bitters
club soda
Rule Your Wedding Reception With An Open Bar
Your perfect wedding won't be complete without an enjoyable open bar with exciting, and unique drinks. You want to make sure the drinks are flowing and the dance floor is full of your friends.  To find the best venue for dancing the night away, contact the wedding planning experts at The Manor.  The Manor is your go-to for all of your wedding needs, from finding caterers,  to picking centerpieces, to creating the ideal open bar.  For more delicious wedding cocktail recipes and ideas, contact the wedding planners at The Manor at 973-325-2060.