Finding the Perfect Dress & Look for Summer Weddings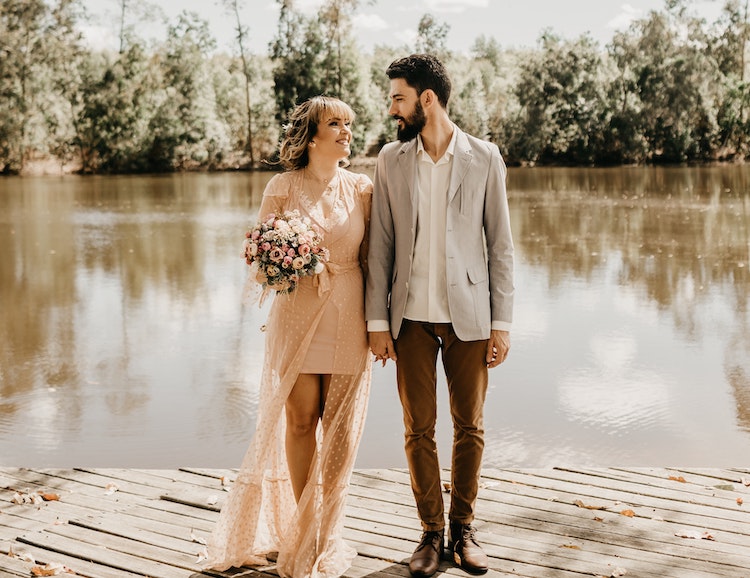 For all of our fashion followers, we've heard those crazy and outdated rules we should follow every season. Whether it's not wearing white after Labor Day, animal prints only in fall, or pastels strictly in spring, knowing where to begin planning your summer wedding can seem daunting. Not only is putting together the right color palette for bridesmaids and décor a headache but finding the right dress to match the season? Now, this might make your head spin. For most brides, finding the wedding dress of their dreams is a life-changing experience. Even the most veteran bridal designer and consultant will tell you that you'll just know when you have the right dress on. Every wedding dress is designed with a bride in mind, and for our ladies planning a lovely summer wedding, we've put together some trending summer gown styles and checklist essentials, so you can be on cloud nine during your shopping appointment!
Choosing the Right Fabric & Finish
One thing we all know about the summer is that it's hot. Planning a mid-July outdoor ceremony? You'll want to choose a dress that won't leave you feeling uncomfortable up at the altar. One of the best tips we can give brides planning their summer wedding: venues and wedding dresses are an important paring, right next to you and your partner of course. If your dream wedding has you saying "I Do" outside, it's always worth doing extra research on cool and comfortable fabrics. Light fabrics and finishes to look out for include organza, chiffon, and charmeuse. For a flowy romantic style, organza and chiffon skirts will make for a striking entrance. Don't want to give up shine, but also don't want to be overheating in a full satin gown? Charmeuse will give you the best of both worlds. For brides going for the princess look, you can still have a full skirt and be comfortable by choosing a gown with a tulle skirt!
Dive Right into Plunging Necklines & Backless Styles
For traditional brides looking for some added edge, plunging backs and necklines are in the spotlight. We are definitely going to see brides rocking these trends because these features make even the simplest dress a showstopper. Backless wedding dresses will compliment mermaid and sheath silhouetted dresses as they don't need as much added support that a ballgown would require. For a classic twist, buttons down the train can tie everything together. However, you will still be seeing a backless option for fuller dresses. Illusion features can amplify a plunging neckline or back! With an illusion back, you can still have the plunging look without total transparency. This also allows brides to highlight extra beading and lace appliques. Since these details are on a nude sheer material, they will appear to be floating on the skin – perfect for a whimsical bride! Exaggerated necklines, even without an illusion feature, keep things looking modern and complement almost every silhouette on the market.
Completing Your Summer Wedding Look 
Finding the dress of your dreams might be the first piece of your wedding puzzle. Completing your look with the right hair and makeup will elevate your dress and truly make you feel like a bride. For a summertime wedding, makeup and hair options can seem endless! Makeup trends for 2020 have included luminous, glowing skin and subtle eye looks. With the help of highlight to frame the face, monochrome eyes and lips can be the way to go, especially if your wedding day doesn't seem like the right time to experiment with bold colors. Light and airy hairstyles reign supreme during the summer months. Loose waves or French braided low buns will add texture and detail while supporting a veil or hair accessory.
When it comes to building your summer wedding look, the most important accessory is you! When you try on the perfect dress, lipstick, or veil, choose whatever makes you feel the best and most beautiful. After all, no one else will get that "bridal moment" feeling other than you – happy shopping and planning to all of the summer brides out there! Need help planning your wedding extravaganza? Connect with the wedding planners at Knowles Hospitality by dialing (973) 731-2360.