The Best Wedding Guest Book Ideas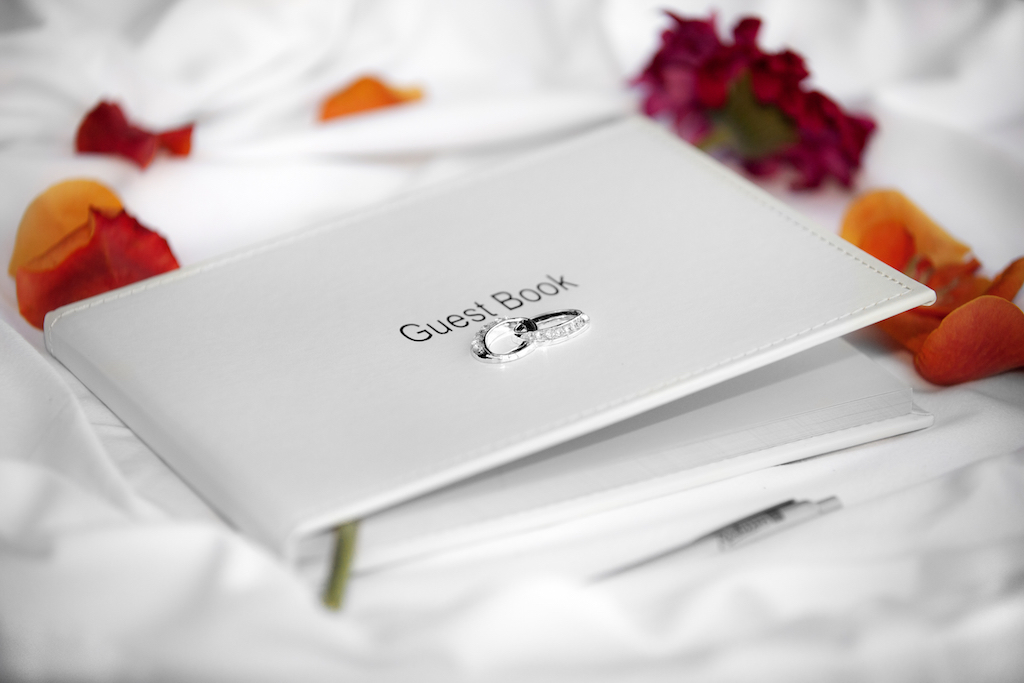 Guest books are a simple, yet valuable way to remember your wedding day. Weddings have come quite a long way from the traditional "book" where guests wrote special sentiments. Nowadays, newlyweds opt to have their guests sign sentimental items they can display in their new home. Guest books provide a heartwarming way for couples to reminisce about their wedding day, and cherish those with whom they shared it. While some couples choose to include a traditional guest book, more modern couples now choose creative, innovative, substitutes. The wedding planners at The Manor share ideas and tips for your very own guestbook.

Trends In Guest Book Colors
Your guest book welcomes guests with their first glimpse into your wedding venue décor. Color can be a simple way to make a statement that's meaningful to the couple. Are you a traditional bride? If so, consider neutral colors for your guest book. Popular color combinations for traditional weddings include white, ivory, or ecru, with a silver or gold trim. Also, it's quite common to include a special embossed wording of "Guest Book" on the cover. However, you can still be traditional and add coordinating signature colors from your wedding theme. Some of these color trends include pale pink, sage green, lavender, and the bright shades of turquoise, tangerine, sunshine yellow, and cherry red.
Accessorizing Your Wedding Guest Book
Creative brides and grooms who are looking for budget-friendly options should consider crafting their own wedding guest book. This DIY option guest book allows guests to sign individual, unlined index cards that coordinate with wedding décor colors. On each card, wedding attendees can inscribe messages on two-tone index cards. The cards are then dropped into a silver serving bowl, glass bowl, or box, to be assembled into a scrapbook at a later time.
Photo Booth Guest Book
Who doesn't enjoy photo booths at weddings? A popular trend is a photo booth guest book. For groups of friends or family, the snapshot acts as their "signature" for a blank guest book. Guests take photos, print them out, and the couple can save each to assemble in a scrapbook.
For a retro vibe, have a table with a Polaroid camera and your open book. Pens, markers, double-sided tape, and other decorative items can be placed on a table next to the blank guest book. Guests can tape their photos inside the guest book, sign, and decorate their page until their heart's content. The guest book, filled with pictures of grandparents, and other guests making funny faces, will make for a treasured keepsake for years to come.
Living in a digital world, couples can make your guest book more innovative by replacing the "book" with a tablet or iPad. Instruct guests to leave a message via the video camera on the iPad. Newlyweds can replay this super personalized message again and again. Be sure to include your custom social media hashtag at this station for easy social sharing.
Incorporating Wedding Signed Items
Rather than create a book, some couples choose to have their guests signatures displayed on items that align with the theme of their wedding. An emerging trend invites guests to sign a giant monogram of the couple. Couples can later hang this giant monogram letter in their home, or most appropriately, on the couple's front door. Similarly, some couples choose to have a canvas made from a photo of them with white space used for signatures.
If you have a popular wedding theme, couples can creatively extend an element to their guest book. For example, if you are having a nautical themed wedding, consider a decorative buoy or driftwood, to collect signatures at a nautical themed wedding. Likewise, if you are planning a rustic themed wedding, have guests sign a horseshoe.
Alternatively, couples can choose an item that best represents their hobbies and interests. For example, imagine if you're a musician or share a passion for music. You could consider having guests sign a vinyl record. Are you or your groom a devoted sports fan? Have your guests sign your favorite sports team's jersey, but replace the last name with your name.
Another growing trend is allowing guests highlight words in the dictionary or circle words or verses that describe the couple with notes in the margins. Meanwhile, more religious couples can highlight scripture in the bible in place of a guest book to read throughout their lifelong marriage.
The Importance of A Guest Book
Couples planning a more modern wedding may not see the value in a wedding guestbook. But having a guest book at the entryway of your ceremony or cocktail hour, can act as an icebreaker for guests to get better acquainted with other guests. Guest books are also a helpful tool for writing wedding "Thank You" notes. Couples can provide a response to the well wishes provided in the guest book in their thank you's. Even better, their entry can ensure the correct spelling of their name.
Planning Your Wedding At The Manor
Guest books are a timeless tradition at every wedding. Despite their every evolving different in form, guest books provide an additional element for couples to showcase their personalities and engage their guests. Consider planning your upcoming nuptials at New Jersey's top wedding venue, and see how the wedding planners at The Manor highly can help transform a simple blank book into a memorable keepsake.