Top New Wedding Trends 2014: Garden Weddings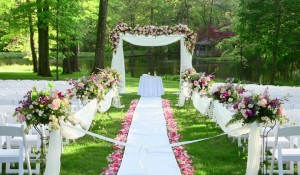 Garden weddings bring the beauty of a wedding out into the beauty of nature, and the best garden wedding venues in New Jersey offer flawlessly manicured grounds, gardens bursting with floral colors, majestic trees and the added beauty of fountains and footpaths welcoming you and your wedding guests into a breathtaking wedding setting for your Big Day.
For many wedding couples, it's a dream come true to marry outdoors, warmed by the sun, surrounded by nature's loveliest creations, and your garden wedding venue improves upon nature's bounty with spectacular architecture in the buildings beyond the gardens.
Here are the top trends for garden weddings in 2014:
For an outdoor wedding ceremony, elegant chairs. Improving upon simple white folding chairs of decades past, today's wedding rental companies offer decorative and upscale chairs, especially including gold accents – with gold as a top accent color in wedding trends.
Fine fabric chair covers. Again, chair covers have improved upon yesteryear's long, draped wedding chair covers, and are now far more fashionable with 'chair shrugs' fitted over the tops of chair backs, extending just down to the seat. Fabrics are often ruffled or hand-sewn with colorful oversized sequins, offering pattern, detail, and especially movement in the gentle breezes of an outdoor wedding setting. Wedding couples love to play with color on their chair covers, often creating an ombre effect from front row to back row, or alternating chair cover colors by row. You might also designate your first two rows for your VIP guests with a special color of chair cover.
Aisle runners. Today's masterful aisle runner designs include hand-applied Swarovski crystals in beautiful patterns, monograms, favorite quotes, patterns like ultra-trendy vines, florals or cultural wedding patterns.
Décor hung from trees. Lanterns, crystals, florals on invisible wire…all may be suspended from your outdoor wedding venue's trees (with permission, of course) to create a garden wedding wonderland in every direction, or just at your outdoor wedding ceremony spot.
Trellis or chuppah awash with florals. Lush collections of roses, peonies, rancunculus, gardenias and other wedding flowers festoon your ceremony trellis or chuppah, for a breathtaking setting for your vows, and creating a floral 'frame' around you for lovely wedding photos.
Tents. A top trend in garden weddings is creating a tent layout, with perhaps one grand tent for your celebration and other smaller tents where guest seating is arranged via couches, tables and chairs for 'private' gathering spots where guests can visit with loved ones and friends during your cocktail party.
Al fresco seating. Groups of couches, chairs, tables and even rented fire tables provide cozy seating areas for guests.
Chandeliers. Ornate chandeliers may be hung inside tents or from trees, as one of the trendiest lighting and décor elements for today's most beautiful outdoor weddings.
Signs. Personalized signs may be displayed around the garden wedding setting, directing guests to the ceremony or reception sites, welcoming guests, and especially inviting guests to take photos of their own in front of the garden wedding venue's prettiest trees, fountains and other scenic spots.
Bars. Set up a number of bars around your garden wedding venue, so that guests may enjoy your signature drinks, champagne, wine, and other top wedding drinks without having to stand in a long line. Food bars may also be positioned on the wedding garden grounds, for guests' easy access to their choices of hors d'oeuvres and platters of your wedding menu choices.
Hand-passed drinks. Servers circulate to offer trays of colorful drinks or champagne to guests, again saving them from the 'work' of waiting in a line at the bar. On a hot day, servers may offer iced tea, lemonade, Arnold Palmers, and fruit slice-filled glasses of refreshing ice water. On a fall day, it might be hot cider, spiked or unspiked.
Musicians. A harpist, cellist, guitarist or other musical performer set up in your garden wedding location adds an elegant entertainment option to set the tone for an unforgettable wedding.
Lawn games. During the cocktail hour, guests can take advantage of the garden wedding setting by playing simple lawn games like bocce or croquet, for fun interaction with friends, and also to provide child wedding guests with entertainment.
Drinks coordinate to the garden wedding setting. While many couples choose signature drinks for their place in their love story, such as the first cocktail they ever shared on their first date, others like to color-coordinate their drinks to their wedding colors. At a garden wedding, you can look to the colors of the flowers planted in the garden wedding grounds, and request from your bar manager drinks to match those colors, making for a unified color scheme for your cocktail party, and for styled wedding photos of your drinks, with those florals in the background.