Top Trends in Menu Cards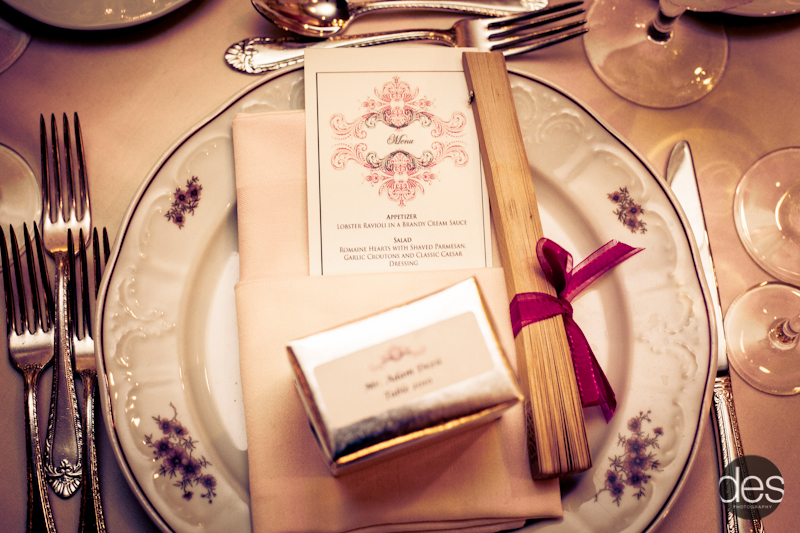 When your guests arrive at their beautifully-appointed tables in your wedding ballroom, they'll be delighted to see – in addition to the beautiful centerpieces and place settings you've chosen – wedding menu cards revealing the cuisine they're about to enjoy. Among the top wedding trends of 2016 are gorgeously-styled wedding menu cards designed with as much artistry and style as wedding invitations.

Wedding menu cards divulge each mouth-watering course to come, with dishes described expertly by your wedding chef and written in exquisite font. Guests read the menu description with great excitement and anticipation, and the menu cards make an engaging and anticipatory impression as part of your wedding table design. They're as much art as they are a menu, so much so that wedding couples are commissioning talented artists to create them.
Simply adding wedding menu cards to your guest tables adds extra elegance, style and foodie finesse to your celebration. Here are some of the top wedding menu card trends:
Place one wedding menu card on each guest's plate instead of having one displayed on each table. Guests get their own, and thus do not have to wait until other guests at their table are done reading the one menu card.
Round menu cards placed in the centers of plates create a soft, delicate look, and are a top new menu card design trend.
Personalize each menu card with guests' first names written across the top of each card. Yes, you'll need to provide your wedding venue with a chart of which table number card goes on which plate, or deliver them stacked in bunches per table with instructions to place menu card on plates in the order you prefer, but the best wedding venues can accommodate personalized wedding requests such as these!
For formal weddings, menu card designs are very ornate and detailed, using formal fonts and flourishes, and for more informal weddings, designs are simpler.
Metallic print is a standout wedding menu card trends, since metallic print in any color you choose reflects the candlelight on guest tables as well as the beautiful lighting effects in your wedding ballroom, a very rich and elegant effect.
Your wedding venue's chef provides the descriptions of courses and dishes for your menu cards, listing out dish ingredients and flavors for your guests' review.
Your wedding menu card can remind guests that you do offer specialty menu options such as gluten-free wedding dishes, and they only need to ask their waiters for their choices.
A personal message from the two of you can be added to the bottom or back of your wedding menu card, as a personal touch that invites guests to enjoy their wedding dinners. Another personalization option for wedding menu cards is featuring a favorite foodie quote or celebration quote on your menu card.
Create wedding menu cards for child guests, whether or not they'll be seated at a child's table in your wedding ballroom. Add in child-appropriate wording, their kids' wedding menu item descriptions, illustrations and colors that appeal to them.
Be sure to keep some of your wedding menu cards. They make excellent keepsakes in their design, and as a reminder of your NJ wedding venue's catering creations.