Unique and Creative Ideas For Wedding Décor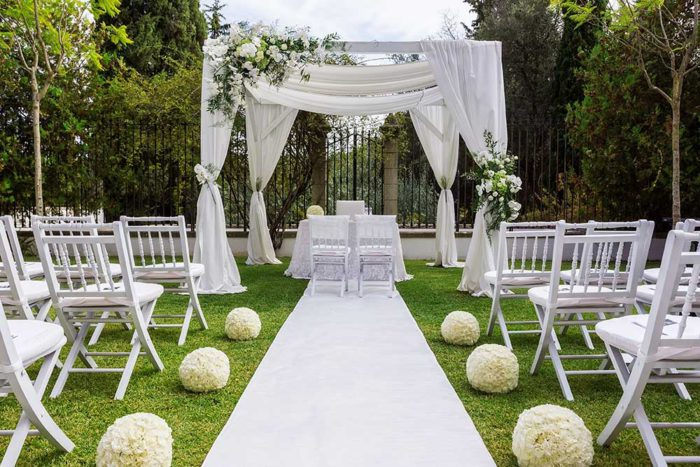 Between breathtaking ornate tablescapes, white romantic tie backs on chairs, or twinkling chandeliers, your wedding decorations tie your entire wedding together. Whether choosing a modern and simple style, or an extravagant and elegant occasion, the right decorations hold the power to transform your big day into a magical and unforgettable fairy tale. With so many beautiful design and style options to choose from, the wedding experts at The Manor have outlined key elements, ideas, and trends to help brides-to-be decorate their ceremony and reception.

Selecting Your Wedding Aisle Runner
As you walk down the aisle to meet your groom, what do you envision? For many brides, custom-designed aisle runners are the ideal way to showcase their personal style. While the traditional "all white" designs are still popular, many couples now opt for colored aisle runners. Trending color palettes include light pastels, such as lavender and sage green, in monochromatic or two-tone. Some adventurous couples elect for more vibrant colors such as reds, jewel-toned purples, and summery oranges and yellows. You could also consider incorporating creative graphic prints such as a cluster of butterflies, hearts, or flowers, for an eye-catching display as guests seat themselves.
Alternatively, you can replace a fabric aisle runner. Instead, you can put use small items on display such as lining the aisle with tea lights in mason jars, lanterns, clusters of candles, potted flowers, or pretty piles of colorful flowers. One popular trend for garden weddings is a 'petal carpet' of scattered flower petals, or petals laid out in a whimsical pattern, creating a path. The options are endless.
Choosing LED Lighting Elements For Your Weddings
LED lighting can dramatically change your venue, making it look even more festive and enchanting. Consider positioning colored uplighting around the perimeter of the room. LED lights are an ideal way to change the color of your venue by creating a soft glow. This is a great way to have a cohesive look that ties in with your wedding theme and light up the night.
LED technology is wireless, making assembly an easy process for your wedding planning team. When incorporating LED lights into a wedding, contact your planner to confirm that the reception venue is suitable for the display. The size of the room, the equipment needed for the projection, and the availability of electrical outlets must be discussed with the vendor well in advance. It's best to vet your wedding lighting vendor through recommendations and research to be sure your big day goes off without a hitch.
Ideas For Decorating Your Wedding Gift Table
As your guests bring beautifully wrapped wedding gifts and envelopes to your reception, it's customary to set up a wedding gift table in the reception for guests to place and display their presents for the bride and groom. Wedding décor methods apply to every detail in the wedding ballroom, large and small, so it is important to pay special attention to both the design and the functionality of the gift table.
Gift table linens can have a style of their own; they do not have to be the same color, fabric, texture, and style as the wedding guest table linens. Many couples choose an alternative color for the gift table and accentuate it with shimmery, crystal-sewn, even patterned linens that reach the floor on all sides for the most polished effect. Some couples choose to add a table runner to create a colorful, decorative effect.
Also, consider decorating the front edge of the table with extra garland from the wedding floral décor, place your bridal parties' bouquets on the table for the evening, or drape a monogrammed fabric drape in a color matching your guest table décor accents. Many couples enjoy candlelight, and often use flameless candles or LED light cubes in glass vases for that ambient touch of class.
Monograms Create A Personal Touch For Your Wedding
A growing trend is incorporating your wedding monogram into your wedding decorations. Entwining a couple's first initials together, or simply using the initial of their newly shared last name carries a great sense of symbolism. Monograms can be included in wedding programs, on the aisle, on the dance floor, on guest table menu cards, seating charts, place cards and table signs, and even napkins. Similarly, centerpiece designs can be made using flower petals arranged into the couple's monogram shape at the center of each guest table.
Incorporating Couple Photography Into Your Wedding Decor
What better way to personalize your wedding than giving your wedding guests a glimpse into your life together through photography? For example, travel-themed weddings can include framed pictures of you as a couple at various destinations. A wedding is more intimate with personalization, so consider photos and facts about the bride and groom. Table cards with various fun facts about the bride and groom, such as their first encounter, awkward moments and favorite memories, can be a fun way to include personality and can even encourage guests to walk around various tables to read the different facts.
Top NJ Wedding Planners Can Create Your Happily Ever After
Are you stuck deciding what décor style to include in your upcoming wedding? From your ceremony aisle and seating to the tablescapes at your reception, the wedding planners at The Manor are experts on creating custom weddings with the decorations the best fit each couple. Contact New Jersey's top wedding venue today!