How To Pick The Perfect Wedding Bouquet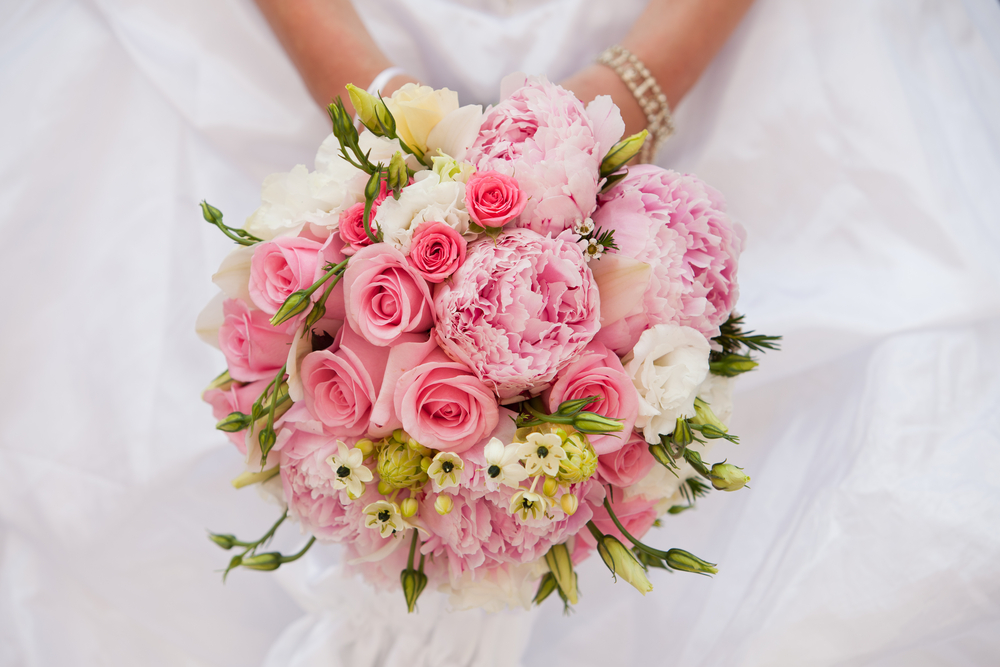 Floral wedding bouquets can tie your entire wedding theme together. Regardless if couples choose a traditional or modern wedding, new wedding bouquet trends blossom with each season. But how do you know what's trending during the time of your wedding? From selecting an arrangement featuring large lush flowers or a more simplistic look using a few long-stemmed flowers, it's time to stop and smell the roses. For floral bouquets that are as stunning as the bride-to-be, the expert wedding planners at The Manor share these wedding bouquet tips.

Selecting the Colors of Your Wedding Bouquet
If you're the type of bride who enjoys the limelight, consider making a bold statement with brightly colored flowers, rather than muted pastel shades for your bridal and bridesmaid's bouquets. Today, lively color combinations such as lilac and sky blue, peach and dandelion yellow, and cherry red and bright orange, can showcase beauty during both daytime and evening weddings.
Meanwhile, a pastel palette can still elegantly reflect a stunning Victorian or royal-style wedding. Pastel colors such as soft ballet slipper pinks, blush and blues are colors sought after by many romantic-styled brides. Furthermore, yellow and soft sage proves a color palette fit for an extravagant spring weddings.
For a truly sophisticated combination, why not combine pure white flowers with elements of sparkle and shimmer? Doing so makes for a timeless wedding bouquet. Believe it or not, an all-white floral wedding bouquet can stand out. Depending on your wedding budget, platinum brides can choose to showcase Swarovski crystals or rhinestones wrapped around their beautiful bouquet or tucked inside the center of each rose.
Another design trend is for bridesmaids' bouquet colors to coordinate with the bridal bouquet. To achieve this, the bridesmaids' flower colors should feature more pastel shades that mimic hues found in the bride's vibrant bouquet. Likewise, the bridesmaids' vibrant bouquets could also be comprised of two bright colors while the brides may have one color.
Styles of Wedding Bouquet Flowers
Roses signify romance and are perennial, thereby standing the test of time while remaining a classic and popular flower for most weddings. Roses also come in a variety of shades in pastels, rich reds, and deep pinks. For the ultimate spectacle of color, you can choose a color burst or monochromatic. Did you know there are over 100 species or roses in varying in size? This makes this species of flower cohesive with any bouquet. Even better, brides often choose roses because they hold a distinct fragrance long after the wedding day.
Exotic wedding floral arrangements are often featured as centerpieces; however, flowers such as orchids and gardenias are often tied into bridal and bridesmaids bouquets. An exotic flower display can often include lilies, peonies, tulips, hydrangeas, and stephanotis. This proves especially popular for garden weddings.
Balancing Your Wedding Bouquet
Planning your wedding floral arrangements entails more than just picking pretty flowers; there are important considerations such as bouquet size and physical strength. You may wonder why brides should consider bouquet size. The proportion of bouquet to bride size is important because petite brides can get lost behind a large bouquet of peonies and hydrangeas, and vice versa. Since brides and bridesmaids will hold their arrangements for much of the ceremony, photo opts, and part of the reception, you should be mindful of how heavy a bouquet can become throughout your wedding day. You do not want a bouquet feeling like a lead weight after a few minutes.
Alternate Uses For Bouquets
So what else can you do with your expensive and fancy bouquets once you hit the dance floor? One popular trend suggests using wedding bouquets as wedding décor accents. You can place bouquets strategically during different moments of your reception as decoration such as around tribute photos or around the sweet heart table.
Distinguishing Bridal vs. Bridesmaids Bouquets
Brides sometimes choose two different sized bouquets; one for their bridal bouquet and a different size for their bridesmaids' bouquets. So how do you tell them apart? Typically, bridesmaid bouquets are a few inches smaller in diameter than the bride's bouquet. Sometimes, brides have their maid of honor's bouquet stand out from the bridesmaids' flowers. They do this by adding in a few brightly colored flowers in the maid of honor's bouquet.
It is customary to have bridesmaids' bouquets consistent with of the same types of flowers included in the bridal bouquet. However, the bride typically has more exotic or larger flowers in her bouquet. Many brides choose hand-tied bouquets for their bridesmaids to mimic the bridal bouquet. In the past, bridesmaids would carry a single rose or calla lily. Today, many brides feel a lack of volume is not cohesive with the entire wedding floral design.
Accessorizing Wedding Bouquets
Are you looking for some sparkle and shine as your walk down the aisle? Consider pressing crystals into the center of each rose to accentuate glam. Alternatively, you can place jewels on the ribbon wrapped around the bouquet handle or have hints of shimmer cascade through the bouquet design. Crystal pins, jewel pins, rhinestone picks, pearl pins, and even diamond brooches whether gifted from the groom or their parents or an heirloom jewelry piece make beautiful bouquet accents. Likewise, Bridesmaids' bouquets can also include a touch of sparkle from crystal or rhinestone pin accents within the blooms or affixed to the handle.
Other brides may also wish to incorporate something more interesting to their bouquets. Instead of crystals, some brides opt to use tiny accent touches that convey their wedding theme. Further, add a touch of good luck to bouquets by pinning on saint medallions or inserting a lucky penny into them. To stay within budget, brides may also use unique leaves and flower fillers in their bridesmaids' bouquets to provide a visually interesting look. Fillers or greenery, are ideal as they are abundant and inexpensive; they are available all year round.
Bridal Wedding Bouquets
Your wedding is your special day. So the style of the bridal bouquet can be whatever you want. Wedding insiders report 95% of today's wedding bouquets are hand-tied designs. Within these bouquets, the flowers are gathered together by hand in a symmetrical, round design, then the stems are wrapped first with securing floral tape, then wrapped again with wide, satin ribbon. This style provides for both formal and informal wedding looks as the most modern and stylish of today's brides' bouquet selections.
New Jersey's Top Wedding Venue Creates Happily Ever Afters
Bouquets are more than a floral piece carried down the aisle, placed on the wrist of a special female relative, or caught by an awaiting single lady. With beautiful design, tradition, and value placed on bouquets your wedding should feature the most lush and fragrant flowers. How can you be sure your wedding bouquets are as beautiful in person as they are in your wedding photos? Contact the wedding planners at The Manor to help you plan every aspect of your dream wedding.