Wedding DIY Table Settings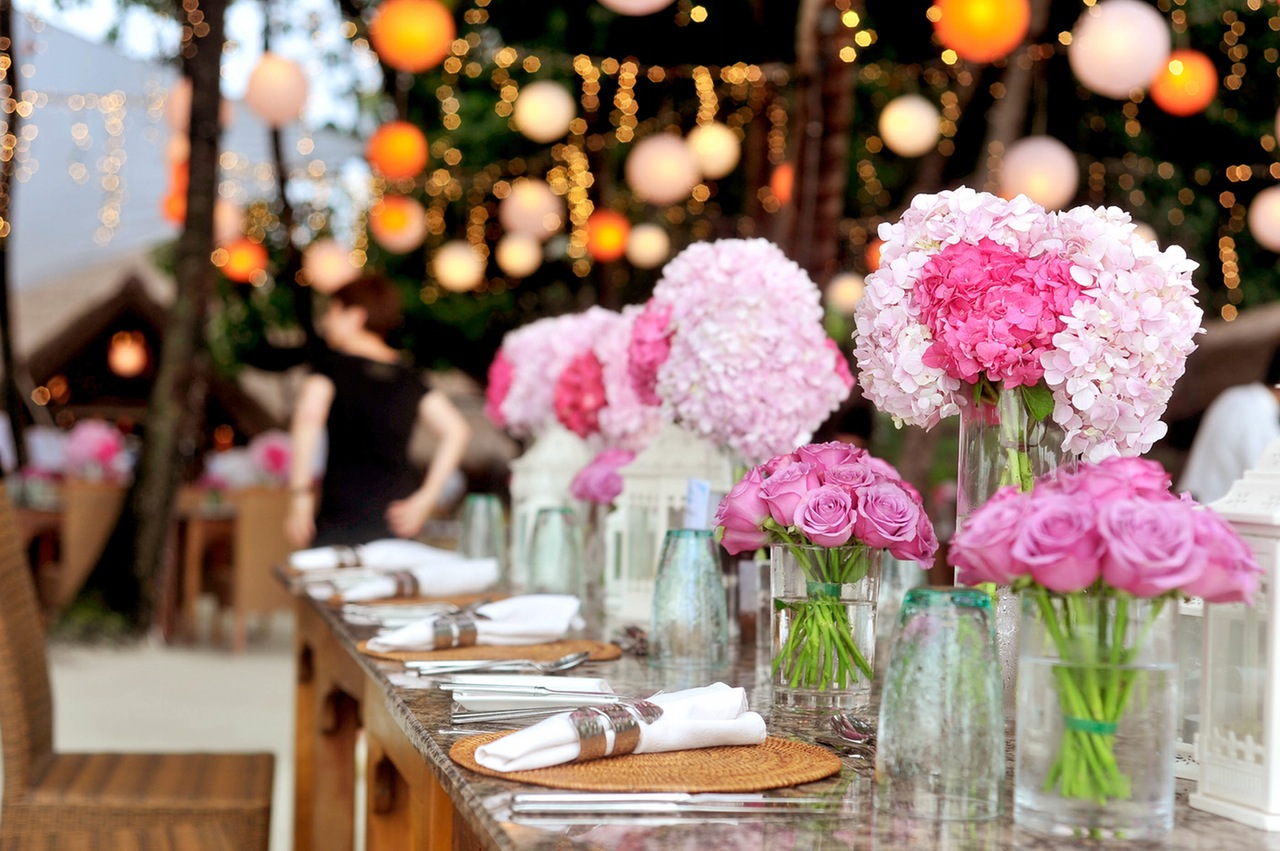 Most people planning a wedding know that weddings can become expensive quite easily and quickly. But if you are looking for a way to cut costs, or simply craving to express some crafty creativity, then consider incorporating some DIY for when you tie the knot. Tired of tableware that looks like a million bucks and easily could be? Whether for your wedding reception dinner or your rehearsal dinner, show guests your decorative talent by incorporating a heartfelt and personal touch to each place setting and creatively bring your design theme together. The Manor has crafted the best DIY ideas to make your wedding truly one of a kind. Get your hot glue gun and scissors ready, as we bring you our Wedding DIY Table Settings blog!

Incorporate Organic Materials
Organic or natural elements can complement any rustic themed wedding table setting. Common natural elements used to highlight table settings are greenery including garland, dainty spruce branches, tiny olive branches, succulents, delicate flowers or materials such as burlap, paper goods, twine and ribbon.
Bundle silverware with crisp white doilies using ribbon or twine, can customize your table setting. Another idea is to tuck an olive branch into the pouch of folded burlap napkin, these two organic elements work nicely for a whimsical touch.
For the ultimate customized napkin, invest in an embosser to stamp your married monogram initial into paper napkins. The embosser will also come in handy to customize other wedding related materials such as your wedding invitations and thank you cards and you can use it for years to come.
Raise Your Glassware
Make a meaningful toast with embellished wine glasses. Customize glasses with DIY etching by using a stencil and etching cream.  Place the stencil on the glass, apply etching cream and after 10-12 minutes, remove the stencil to reveal an elegant and unique design that can even double as a wedding favor. For a sophisticated decorative twist on wine glasses, cover pick tops of a flower and place a wine glass upside down over each flower. Then, place a lit candle on top the flat circumference. Also, if you'd like to opt for non-traditional glassware, replace existing glassware with mason jars. For a signature rustic wedding, attach chalkboard stickers onto the mason jars and provide chalk for guests to label their own drinks.
Magnify Elegance with Metals
When selecting your silverware, remember that you have more options besides, well silver. Rose gold utensils, or gold flatware both bring an added element of sophistication to the table. You could also mix and match between different styles of vintage silver. To add more fun to the cake cutting tradition, consider engraving dessert spoons for your bridal party as a gift. Spoons can read, "Enjoy" or  "Have your cake" or monogram their initials. For just the bride and groom, the bride's fork may read, "I do," while the groom's may read, "Me too." Likewise, the bride's spoon may read, "And they lived," while the groom's may read, "Happily ever after."
Layer With Fabrics
DIY fabric napkins can help to incorporate your personal flair into your rehearsal dinner or wedding reception. To make fabric napkins stand out, choose a fabric that correlates with your wedding's theme. For rustic weddings use burlap napkins as a stylish alternative to cotton napkin; meanwhile lace or lace details along the trim of napkins for a more elegant and traditional style weddings. If you're really artistic, design your fabric napkins, by experimenting with paint and patterns such as dip dying fabrics.
To create more eye-catching detail, drape table runners horizontally for every place setting or every other setting. You can also choose to layer a centered vertical runner over or underneath the horizontal runners. Be sure to incorporate different textures and colors, or play of hues of a particular color for a subtle elegance that is sure to please guests dining.
The joy of your wedding day and appreciation for your guests can be displayed at their seat, by showcasing DIY table setting. These simple table settings projects are made from the heart and definitely something you should be proud of. Guests will recognize your hard work and your wedding will come together beautifully because of the time dedicated to your personal touch. Share your personally designed table settings with The Manor; we'll be happy to make custom accommodations to best suit your desires or collaborate with our wedding planners to create custom table settings inclusive of your own personal style!