Wedding Etiquette: 5 Tips for Creating a Wedding Menu with Guests' Dietary Rules in Mind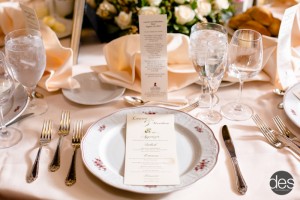 It's now a wedding planning Must to create a wedding catering menu offering dishes that can be enjoyed by guests who have particular dietary rules, such as eating gluten-free, vegan and Kosher. Many wedding couples now include Paleo cuisine in their wedding menus to accommodate their friends and family who adhere to that trendy diet.
Your wedding venue's chefs can accommodate these specialty diets, planning dishes for the cocktail party, reception meal and desserts, so that all of your guests have plenty of wedding catering to enjoy.
A new element of this trend in wedding catering is the etiquette of sharing the news that yes, your guests can request specialty diet items in your wedding menu, so here are some tips to help you spread the news in the most etiquette-friendly way possible:
Create a personal wedding website before you send out your Save the Date cards, and print on the Wedding Guest Information page a note saying, "Our wedding venue's chefs will be able to create a variety of dishes accommodating our guests' gluten-free, vegan, vegetarian, kosher, and Paleo menu wishes. Please email us at (your email) to make your special dietary requests before our catering deadline of (date.)" Guests will then email you their and their kids' menu needs, and you will then follow the rules of proper etiquette by emailing them back to let them know you received their request and will pass it along to your wedding venue chef. Be very organized about this, so that guests don't experience disappointment when there is no specialty meal for them, as they requested, due to a lack of organization.
A few weeks before your catering deadline, it's etiquette-okay to email all of your guests with a reminder that all special menu requests for your wedding are due by your upcoming deadline.
It is not etiquette okay to post a general request on your Facebook page, since it's likely that not all of your social media contacts are invited to your wedding. Those who are not invited will see your post about wedding menu wishes, and in their confusion may send you an email or call you with a very awkward question about whether or not they're invited to your wedding. Keep all wedding talk off of your social media to be respectful of your contacts who did not make your wedding guest list.
Enclose a menu choice card insert in your wedding invitation, in case any guests didn't see your note on your personal wedding website, and wish to request specialty wedding menu items.
Create a kids' menu for your wedding cocktail party and reception, so that little ones will find plenty of dishes to their liking throughout the day. A kids' station is a smart idea and a top wedding trend, with fresher, heathier fare included within the usual choices of chicken fingers and other kids' favorite foods.