2017 Wedding Catering Trends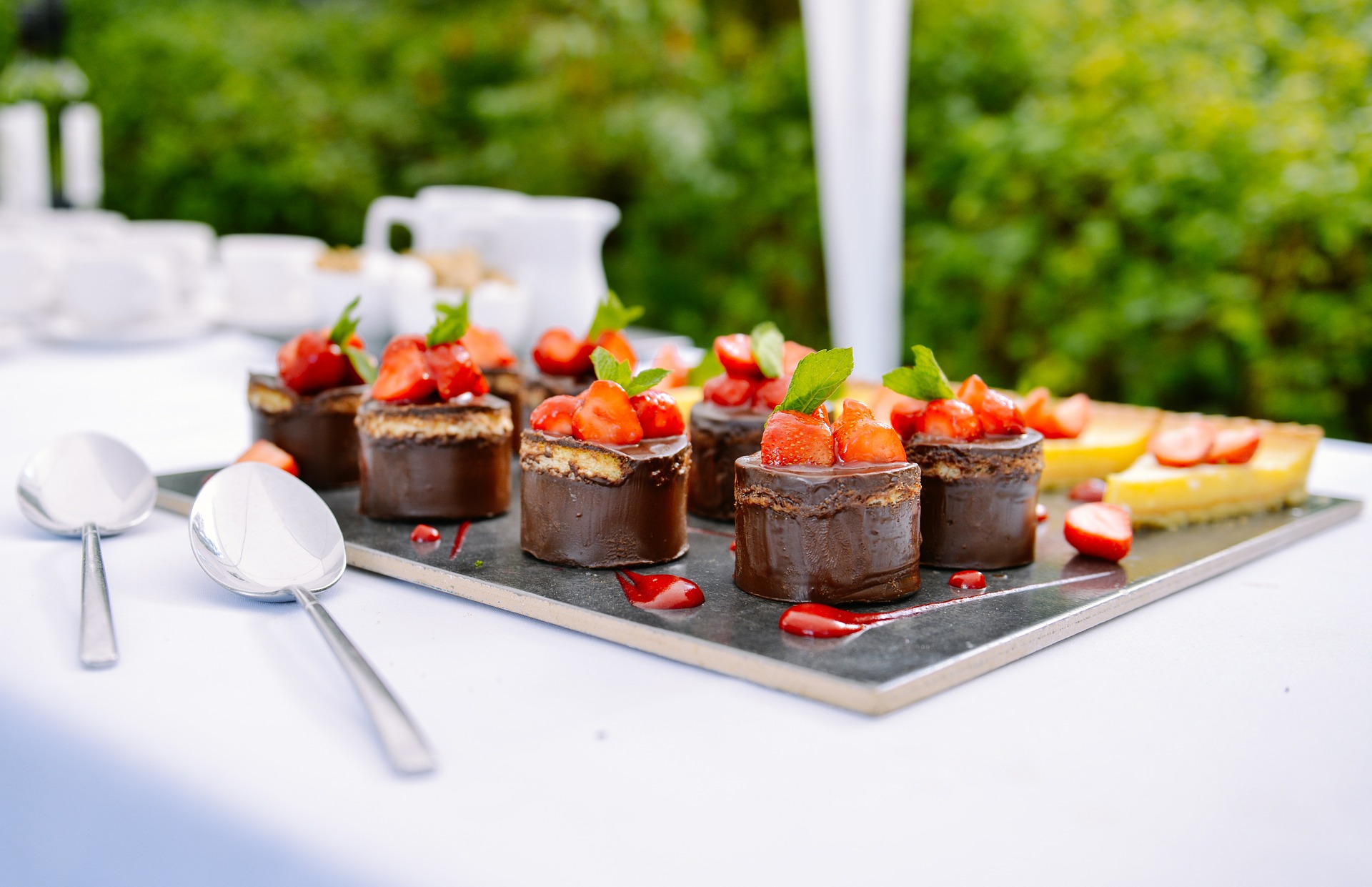 One of the most stressful parts of the wedding planning process involves coordinating with the caterer to create a delectable menu for your big day. While many may be content with a run-of-the-mill menu, the food and beverages you choose to serve can truly transform you reception from ordinary to extraordinary. For years, wedding menus had a standard structure: The first course consists of a salad, followed by an entrée – chicken, beef or fish – and finally a piece of the delicious wedding cake for dessert.
However, times have changed. Today, chances are that your guests are savvy eaters with a broadened palette, and an appreciation for fine cuisine. In other words, traditional menus just won't cut it. Your guests will be looking for some more unique than a standard chicken or fish plate, which is why it is important to hire a reputable catering company to ensure your guests will be happily satisfied with their meals and ready to hit the dance floor.
As trends in wedding menus change each year, the wedding planning experts have gathered popular trends that will reign supreme in 2017 and give your reception that extra flair, which will leave guests remembering your special days long after the celebration ends!
Keep it Healthy and Light
While it is true that everyone loves to indulge in sweets from time to time, the reality is that healthy eating is here to stay! Numerous healthy trends have appeared in the catering industry over the last few years including Vegetarian, Vegan, Gluten-Free and Paleo-options. As people are becoming more health conscious, you will want to trim the fat off your menu. Gone are the days of guests demanding heavy cream sauces, or deep-fried dishes; now they want smaller, lighter dishes.
You do not necessarily have to limit your options; in fact, you can still assemble a menu of delectable dishes that will have your guest's mouths watering. For cocktail hour, offer dishes such as mozzarella balls with fresh herbs and olive oil, or mini lettuce wraps in a savory Thai peanut sauce. You can offer a wide array of tropical fresh fruit, or even a pecan, raisin and apple crostini topped with a drizzle of honey.  The best part is that not only are these sample dishes healthy, you are actually saving money. Talk about getting bang for your buck!
Focus on Presentation
In a world full of social media, your guests are interested in presentation and the uniqueness of each dish. Guests are more technological savvy, and constantly taking pictures of your big day for the whole world to see. This means that you need to make your dishes photogenic in addition to making them delicious. Social media shares continue to grow each year, which means that you will want to hire a catering company that will create beautiful, memorable dishes that are worth sharing.
Do It Yourself (DIY) Stations
In recent years, there has been a surge in popularity for Do-It-Yourself activities such as arts and crafts; the same rings true for cooking. People love making their own food, which is why many couples are including food stations at their weddings allowing guests to pick and choose ingredients to create their own customizable dishes. Whether it's selecting your very own fruit juices at the bar, or customizing toppings at a cupcake stand, these stations add an extra degree of entertainment. Even better, it also allows guests with dietary restrictions to join in on the fun.
Go Organic and Shop Local
Our chefs have noticed many guests requesting local, organic ingredients in their dishes. As organic and sustainable ingredients become more available and guests becoming more health conscious, brides and grooms should include at least one fresh, green course on their wedding menus to delight their eco-friendly guests.
Simplicity continues to reigns supreme, as guests will try dishes in which they know and recognize. Consider as a fresh salad made with organic greens to start, or free-range chicken with organic string beans for your main. And going green doesn't stop with the food. Many winemakers and spirit producers are venturing into organic beverage options, so you should ask your caterer about adding organic tequilas and vodkas or even biodynamic wines to your bar menu. This is one eco-friendly trend that's here to stay.
Furthermore, many couples are looking to feature fresh, locally grown ingredients as interest and demand for locally sourced food increases. Be sure to offer your guests locally sourced salad greens, herbs, and vegetables; cheeses from your local dairy farm as well as locally grown honey; you can even make tags that mention your local ingredients!
Craft Your Dream Menu
As trends in the catering industry continue to evolve, the wedding experts at The Manor are well equipped to create a menu that will please and delight your guests. Whether you desire a crisp, fresh organic salad or a savory steak drizzled with au jus, we can accommodate a wide array of requests. For more information, contact us at The Manor today!