2021 Prom Dress Trends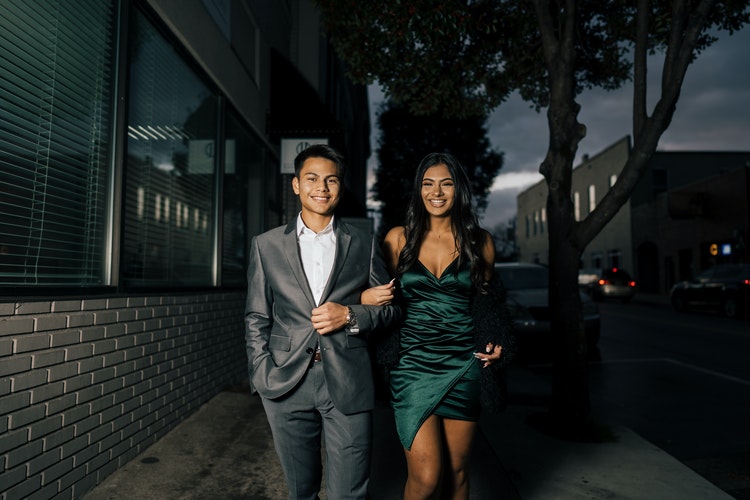 Prom is coming up soon, and with it, prom dress shopping. No matter the style you choose, the goal on prom night is to look flawless and feel stunning. Prom night is your time to shine, and with these popular dress trends, you will stand out among the crowd.
Illusion Prom Dresses
Illusion gowns are one of the most popular looks in 2021. The style of this type of prom dress allows you to show off a hint of skin while preserving a glamorous and refined look. Illusion prom dresses utilize sheer fabrics and inserts, or underlay, as well as cut-outs at the sides or across the midriff to give touches of mystery and drama. They can also have a floating effect, making it seem as if the dress can stay perfectly in place on its own. Illusion dresses give a unique and eye-catching look!
Two-Piece Prom Dresses
Two-piece prom dresses started trending earlier in the year and won't disappear anytime soon. Two-piece gowns have a youthful feel, and usually feature a cropped top or strapless bodice, as well as an individual skirt that reaches the floor. They show off your midriff in a dramatic, fun way that is perfect for prom. You can find these dresses in a variety of different styles, including body-con, fitted, and many more. With this variety, you'll be able to find a two-piece prom dress that flatters your style and makes you feel like your most confident self.
Prom Dresses with Cut-Outs
Just like illusion gowns and two-piece prom dresses, cut-outs can transform your more traditional gown into something dramatic and mysterious. A lot of designers have created unique designs that feature innovative cut-outs on the sides, front, and back of prom dresses. They show the right amount of skin and are easy to wear.
Open back gowns, for instance, provide the perfect opportunity for a daring reveal. A popular type of backless dress is the ballerina back, which design features a long full skirt with the bodice at the front and two straps that help to form the back of the gown. These gowns have a slimming effect and are fashion-forward. Get ready to feel like the belle of the ball!
Corset Prom Dresses
With corsets and bustier tops growing in popularity within the fashion world, bustier and corset gowns keep gaining recognition as well. Prom dresses with these details feel unique, flirty, and fun, making them perfect for prom! A corset prom dress features a structured fitted bodice that hugs in your silhouette and highlights your curves. Typically, these bodices match with ball gown style dresses, but you can also feature them with flared skirt prom dresses and other fitted dresses. Since a corset can flatter pretty much any body type, this is an excellent option for prom.
Cowl Neck Prom Dresses
Another growing trend in 2021 has been the cowl neck: a neckline consisting of loose fabric draped alongside the collarbone. Cowl neck prom dresses have been rising in popularity and can give a bit of '90s flair to your prom look. The allure of the neckline, paired with the thin straps the prom dresses typically feature, offers an unparalleled take on the V-neck dress.
Prom Dresses That Shimmer
A signature for almost any prom dress, no matter the silhouette, is dazzling sequins, metallic fabrics, and intricate beadwork. Sparkling embellishments will make your gown shimmer and can add one-of-a-kind details that will set you apart from others. Popular in 2021 is the metallic prom dress, which can add in some glitz and glamor to your full look.
No matter the style of prom dress you go with, it's important to remember that the goal is to feel confident in your gown. Once you look and feel confident in your prom dress, we guarantee that you will shine brighter than the rest. In examining these trends, you're one step closer to finding that confidence-inspiring gown! For more information on dress trends, contact the event planners at Knowles Hospitality today!