Best-Of Our Wedding Ceremony Tips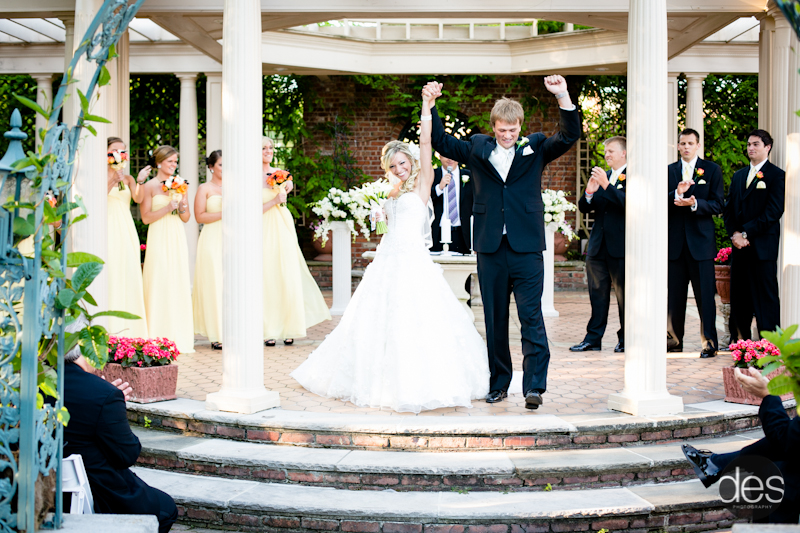 Your wedding ceremony is the center and the heart of your wedding day, filled with the promises you make to one another, expressions for your love of and commitment to one another, tributes to your families and expressions of your faith. A beautiful wedding ceremony gathers your loved ones around you to bear witness to one of the most momentous experiences of your life, and not just celebrate with you but support your married life through their own presence on your big day, as well as all the days of your future together.
As you plan your wedding ceremony, you'll start with choosing the best wedding ceremony location for you, whether an outdoor wedding ceremony or an indoor wedding ceremony, and begin designing the style of ceremony site you want, as well as write your wedding vows, choose wedding ceremony music, select the people who will participate in your wedding ceremony, and add your own personal touches to this unforgettable wedding day event.
We're very pleased to invite you to read our Best-Of wedding ceremony tips from our top-viewed blog posts, to help you design your perfect wedding ceremony. Visit these posts now:

The Best of Both Worlds
Integrating Two Religions into One Wedding Ceremony helps you plan your wedding ceremony to include the most important aspects of your religions in your rituals and special wedding ceremony moments. From the processional to treasured religious wedding rites and wording, our top tips help you create a wedding ceremony that captures what's most important to both of you.
The Best "I Do"
Writing Your Own Wedding Vows helps you get the words just right for the centerpiece of your wedding: your ceremony. This is where you'll make your promises to one another, and fill your ceremony with the perfect wedding quotes and sentiments to make your wedding truly your own from start to finish. We've provided some top tips to help take away your vow-writing anxieties and deliver the most heartfelt vows possible.
The Best Scenery
Should I Have My Wedding Outdoors or Indoors? helps you decide on the best location for your wedding, held at one of our top NJ wedding venues. There are important factors involved in planning an outdoor wedding vs. an indoor wedding, including décor, a plan B for weather, and your guests' comfort and enjoyment of your wedding held in our NJ wedding gardens or in our ballroom. We'll get you thinking about what your dream wedding day looks like and how best to take advantage of the beauty of your wedding season…or you could bring the outdoors inside our wedding ballroom with stunning floral décor to create a magic garden effect inside.
The Best Garden
Top Garden Wedding Trends provides some of our most beautiful ideas from the top garden wedding trends in the industry, from décor to special moments to menus perfect for enjoying in our NJ wedding gardens. We're so lucky here in northern NJ to have so much natural beauty in park-like settings, perfect for the most beautiful wedding imaginable. We've collected some of the top garden wedding trends to help inspire you.
The Best of Trends
Wedding Décor Trends: Decorating With Signs helps you create the ideal signs for placement around your wedding venue. They may welcome your guests, instruct them on ceremony seating, announce your signature wedding drinks, point guests to your wedding photo booth, and more, adding your personality, your sense of style, your wedding's theme and a dash of humor to your wedding décor. And many of your signs can be taken home and used in your home décor after your wedding day.
The Best Seating
Wedding Décor: Ceremony Seating helps answer your questions on what's proper for correct ceremony seating assignments. Does the bride's side sit on the left or right, or do you wish to invite your wedding guests to 'pick a seat, not a side?' You get to design the perfect seating for your wedding guests, and you can then design the prettiest seating accents and décor to add visual flair your ceremony venue.
The Best in the Great Outdoors
Top Outdoor Wedding Ceremony Tips helps you plan your outdoor wedding ceremony with perfect flow and functionality in mind, so that guests can see and hear you in your outdoor setting, and so that you can design the perfect path to your happily ever after.
The Best Ideas for Your Ceremony
Top Wedding Ceremony Décor Ideas helps you design the perfect ceremony venue décor to share your personal style, the theme and season of your wedding, and your favorite wedding flowers and décor pieces.