What Is An "Exit Look" And Do I Need One?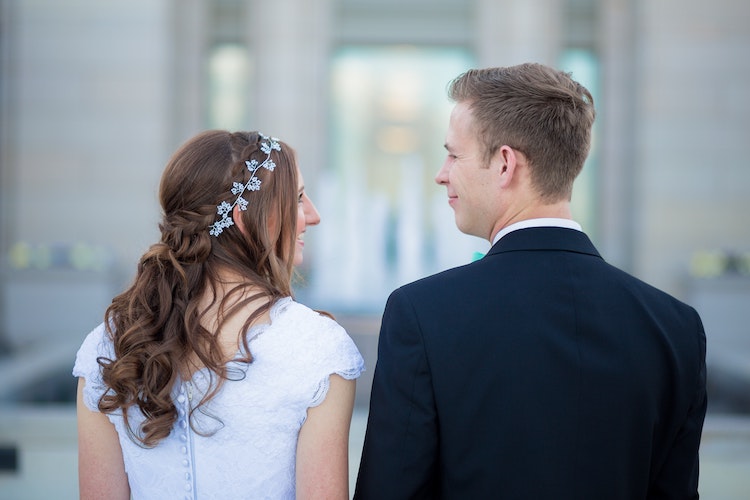 If you're the type of bride who is keen on planning the entire wedding, beginning to end, then you've probably heard of the multiple looks that a bride can wear throughout the wedding. From the irreplaceable "first look," to the easygoing "second look," but what about the final "exit look?" Whether you've heard of it or not, it's safe to assume what it is because the title says it all. End your wedding with a bang in a gorgeous evening dress and sail away with your new fiancé to your honeymoon. It's your wedding and you can plan it however you want, wearing multiple looks or just one. Let Knowles Hospitality fill you in on bold exit looks and how you could transform your magical day just with a few simple gowns.
What Does An "Exit Look" Look Like?
There are many looks the bride can rock during her wedding day if she decides she wants multiple looks, but an exit look has its own story. An exit look is an outfit you wear for the wrap up of your special day, and yes, the groom can participate too! It's something that you can pick out on your own terms. It's not like your main wedding gown and you don't need to ask for everyone's opinions on it. An exit look is whatever you want to make it, whether it's a simple, sleek fit and flare or an over-the-top ballgown. Typically, it's a dress more on the comfortable side with a smaller skirt and less complex design for the purpose of easy movement. Make it your own and choose the exit look that you want.
Is It Necessary To Have An "Exit Look?"
It's difficult enough planning a wedding, but adding a second or third dress just complicates things even more sometimes. Is it even necessary to have an exit look? Technically, no. It isn't even necessary to wear a wedding gown at all. But we can tell you the benefits of having an exit look.
First of all, they make things much easier at the end of the night when it's time to change for bed. Wedding dresses are super complicated and sometimes impossible to get in and out of, especially if you're alone. A simple exit look can totally take that stress away.
Next, if you're planning on having your honeymoon the night of your wedding, you don't want to risk damaging your dress on the way! Instead, opt for a cheaper, less extravagant dress for your special exit and preserve your beautiful wedding gown forever.
Lastly, if your getaway transportation is not the conventional vehicle, you may run into some trouble. Brides and grooms are taking things to the next level in 2020 and exiting their wedding on motorcycles, horses, and carriages. It's nearly impossible to have a lavish escape with a massive dress dragging behind you. Go for a chic exit look and avoid having all of these issues on your special day.
What Are My Options?
If you're interested in an exit look dress for your wedding but are unsure of what to look for, you're in the right place. Usually, an exit look gown is not white. A beautiful champagne or off-white shade will do the trick because the main focus was your first gown and you don't want to take the attention away from it. The length is up to the bride, however, the traditional length of an exit dress is about the same as a cocktail dress. Avoid a long gown, especially with a train, because the whole point of this look is to be comfortable and maintenance-free while you're kissing your friends and family goodbye. Be playful and have fun with this dress! As for the groom, anything business-casual goes. Of course, keep a dress pant and formal shoes, but play around with prints and patterns. It truly depends on where you're headed after the event. Put comfort before all when choosing an exit look because there's nothing more stressful than traveling in an uncomfortable outfit!
Exit Your Wedding The Way You Want
Whether you choose to have multiple looks at your wedding or just one, the day is all about celebrating two souls coming together. The dresses, makeup, and venue is fantastic and makes the event that much more special, but weddings are really about enjoying the company and living in the moment as two people tie the knot. Whatever you decide to wear on your wedding day, it will be a day you won't ever forget. Enter your wedding in a beautiful, show-stopping gown and leave wearing the chicest exit dress out there. Want more dress inspiration? Check back at the Knowles Hospitality blog for more wedding tips and tricks and the trendiest wedding dresses of all time.