How To Choose The Best Wedding Gift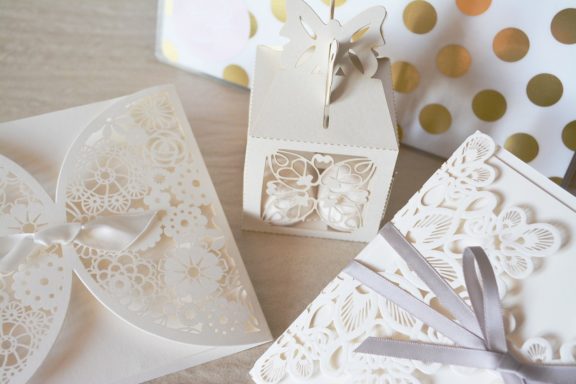 Did you know the national average is now approximately $30,000? The cost of a wedding rises each year, but not just for the couple set to wed. If you receive a wedding invitation there are important logistics to keep in mind before you RSVP "yes." As a guest, it's important to take into account costs for attire, travel, hotel accommodations, and the wedding gift. Although no specific etiquette exists for wedding gifts, a thoughtful and well-planned wedding gift can wish the newlyweds well during this new chapter in their lives together. The wedding planners at The Manor have some guidelines and suggestions for selecting the best wedding gift to give the honorary couple.

Choosing A Gift From The Wedding Registry
Over 75% of couples utilize gift registries for their wedding, ensuring that gifts will be useful, liked, appropriate, and not duplicated. It's common for couples to list their wedding registry directly on their wedding website or bridal shower invitation. Shopping off the wedding registry easy, simply select an item within your price range and ship it to the couple, yourself, or purchase in store. The list will likely indicate which products have already been bought, and if you can't find a suitable item on the registry, consider giving store gift cards as an alternative.
The Appropriate Dollar Amount To Give At A Wedding
Some old standbys exist to help you gauge a dollar amount to give the newlyweds. For example, giving enough money to cover your plate. In reality, though, no exact dollar amount has been specified or expected, there are some expectations you can take into account before you stuff that envelope. In general, it's recommended to stay at $50 or above. Guests can factor in the type of relationship they have with the newlyweds. If giving to family friends, coworkers, or casual friends, giving about $50-$75 is sufficient. Whereas relatives and friends usually give between $75-$100, with close friends and family members give $100 or more. Similarly, if you are bringing a plus one, its common courtesy to increase your monetary amount 1.5 times to account for the additional cost. Also, you can apply the same thought process if you are unable to attend the wedding.
Factors of A Destination Wedding Gift
Couples who plan a destination wedding likely expect their guests' actual presence to be enough. Although a tropical island or cruise may come with a hefty price tag, guests may still bring the newlyweds a gift unless otherwise requested by the couple. Something small or sentimental will suffice. Traveling with wedding gifts can be a hassle, so plan ahead and make arrangements to send the gift prior to the wedding. You can also deliver it upon their honeymoon return.
Budget-Friendly Wedding Gifts
Consider your personal finances when determining how much you can afford on a wedding gift. Couples care about their wedding guests but do not expect their beloved guests to break the bank. You can easily use creativity to lower costs such as opting for a group gift of an expensive item. If you opt to give as a group be sure to plan amongst the group who will collect the money, buy the gift, and budget accordingly.
Handmade gifts can be cost-effective all while showing how much you care. A framed picture, a wedding scrapbook, or Holiday ornaments for the couple's first Christmas ca create valuable gifts and memories. Also depending on the couple's hobbies, cookbooks, tech and travel gadgets also work well when on a budget.
When To Give Wedding Gifts
Guests typically either bring their gifts to the wedding (if small) or mail them before the wedding, especially if they buy them from the registry. Guests who intend on gifting a monetary amount place it in the envelope holder during the reception. If you RSVP no, mailing a check to the newlyweds can be a nice way to still show you care. Sometimes, guests wait until after the wedding to send their gifts. Though many believe they have an entire year after the wedding to give a gift, most newlyweds often use gifts within a shorter amount of time. Of course, if you cannot give your gift promptly, the "better late than never" rule applies.
Ensuring Your Wedding Gift Is Special
No matter what type of gift you give, make sure it comes from the heart. Even when giving an ordinary household item from their registry or an envelope of money, a sincere card adds that extra touch. To learn more wedding planning tips, contact a top New Jersey wedding venue near you today. The wedding planners at The Manor await helping you plan your happily ever after.