How To Plan Your Next Corporate Holiday Party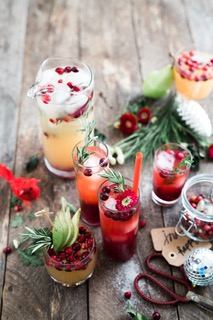 As the fall and winter seasons approach so does the whirlwind of holidays both with family, friends and in the workplace. Halloween, Thanksgiving, Halloween, Christmas, and New Year's, are all opportunities to add festivity and camaraderie to your office. Having office parties brings employees together, creates lasting friendships and boosts team morale. What better way to celebrate the holidays than with your coworkers? The event planners at The Manor offer the top trends and creative ideas when it comes to catering, décor, entertainment, and all the essentials necessary to plan any type of corporate holiday party.

Choosing The Right Corporate Party Decorations
Decorations can really spruce up a venue or an office party after a long day of work. As notable ideas for holiday décor fill the windows of department stores and shops, consider thinking outside the box. Life size snow globes, gingerbread hotels, and hot chocolate bars are extravagant holiday decorations for any corporate holiday party.
Corporate Food and Menu Trends
Food trucks serving just hot dogs or street tacos are now a thing of the past. Today, Gourmet Food trucks are trending and offer so many options. Choosing to have a food truck roll up at your corporate holiday party can be an easy way to ensure that all employees are well fed at the celebration. Even if you choose to cater your holiday party, you can still have a food truck stop by with dessert options such as frozen bananas or crepes. You may also conclude the evening with a grilled cheese truck, smoked BBQ truck, pizza truck, or a slider truck.
How To Add Fun Activities To Your Corporate Holiday Party
Photo booths shouldn't be exclusive to wedding receptions; they provide an engaging way to remember and cherish any special event. For a corporate party photo booths can provide employees fun pictures for their desks or even a keepsake they can take home. Also, each department can create a festive community bulletin board or highlight an employee of the month in a new cool way.
Raffles can also bring a team together and increase anticipation during the party. Prior to or during the cocktail hour, offer tickets for sale and raffle off exciting prizes like an Apple TV, a day at a spa, or tickets to a show or sporting event game. During the evening, the CEO can announce the winners of the prize(s). Another interactive way to add some music to your party involves renting a karaoke machine. Get employees out of their comfort zone and sing along to favorite holiday tunes or hits from the radio.
Selecting The Party Date
Most offices usually close during holidays, which is why most companies start their festivities early or even after the holidays. When selecting the date of your corporate holiday party, consider a Friday to celebrate the conclusion of the workweek. For holidays like Halloween where the office is still open, encourage employees to be festive and dress up.
Corporate Party Gestures and Etiquette
Since corporate holiday parties may include alcohol consumption, many companies provide a car service to safely bring their employees home. If you want the festivities to continue through all hours of the night, some companies also provide their employees with hotel rooms. While you don't necessarily have to choose this route, it alleviates worry from your employees, thereby allowing them to enjoy the night without worry about the trek home.
Regarding invitations, consider allowing "plus ones" for corporate events. It gives employees a chance to get to know their co-workers better by meeting significant others. It's also a nice gesture to include everyone and people will be more inclined to attend and embrace the evening if they have their spouse or significant other by their side.
Planning Your Corporate Holiday Party
The Manor can accommodate any sized gathering year round with stunning banquets halls and parlor rooms, and top culinary chefs. Contact The Manor today to begin planning a corporate holiday party that your employees will remember for years to come!