Our Top Wedding Makeup Trends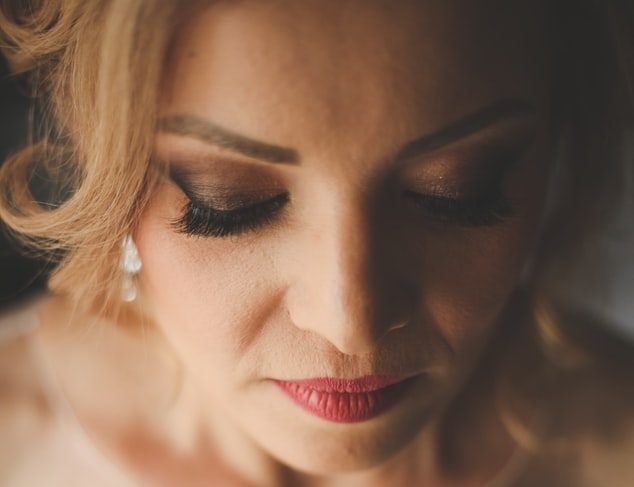 Whether you're a make-up guru or a fan of a fresh face, finding the right makeup look for your wedding day is a great opportunity to express your personality. Selecting your makeup will require a few test runs to figure out which things you want to incorporate into your look. If your wedding's color scheme uses bold colors, think about going with a more natural makeup look. But if you decide on a natural color palette for your wedding, think about spicing up your makeup look with a bold red lip or bold eyes. Overall, we want you to feel like yourself in our chosen makeup look. For inspiration, here is our list of the top wedding makeup trends of 2019.

Glow Up
One of 2019's most popular makeup trends is undoubtedly glowing, luminous skin. Having that healthy, wet-looking skin is the desired makeup trend that has replaced that signature matte-finish look. You can master this look with only a few items – facial oil, a solid primer/foundation combination, a good highlight, and a setting spray to seal the deal. Many makeup brands have released a collection of luminous foundations that make it easy for any bride to achieve this look. Walk into any makeup store and ask about luminous skin and the workers are sure to point you in the right direction. We want you to glow on your wedding day!
All Natural
Another trend we've seen popping up more and more in wedding makeup is the all-natural skin and hair look. All you need for this look is healthy skin, neutral shades, and minimal makeup.  You're going to want to make sure you have a solid care regimen to make this look as strong as possible.   You also want to make sure you have makeup that will not cause breakouts. Some standout makeup brands that will help you achieve this look at Glossier, Philosophy, and Milk Makeup. These companies create products that are lightweight and provide ideal coverage that won't overpower your look. If your wedding dress is a showstopper and you want everyone to notice, think about going for the all-natural makeup look this wedding season.
Focal Feature
It is very common to have one focal feature on your wedding day, besides you as the bride of course. In terms of makeup, a focal feature is usually one of two things: a bold lip or a bold eye. A stunning red lip is a great way to spice up your wedding day, or you can go for a more natural lip and add a smoky or shimmering eye. Try not to overdo both at the same time and focus on only one to capture your perfect wedding look.
Look at Those Brows
Since the early 2000s, eyebrow trends have changed drastically. First, everyone wanted to pluck every single hair out of their eyebrows, and now everyone wants big, bold eyebrows. Our advice is to invest in a really good eyebrow product, such as Anastasia Beverly Hills or Benefit. Fill in your brows to create a sharp, angled brow look able to catch the attention of everyone in the room. Be bold with your brows on your big day.
Show Off Your Wings
We're not talking about actual wings here, but rather winged liner and feathery eyelashes. Achieving the perfect winged liner look is difficult and takes months of practice, so we suggest hiring a makeup artist. However, once you apply the makeup, the winged liner look is a sweet and sexy touch to your makeup. Along with winged liner comes feathery lashes. Fake eyelashes are another popular makeup trend that is great for your wedding day. This way you don't have to worry about your mascara coming off and ruining your makeup, so you can enjoy the company of your loved one.
Shine On
For the bride who loves to make a statement, the last of our favorite makeup trends is to add shine. The key to incorporating sparkle and shine to your makeup is not overdoing it. Try focusing on one aspect of your face, such as your cheekbones or eyes. Find a bold highlight or a palette of bronze shimmery eye shadows and accent it with a lip-gloss. Shine like a star on your wedding day.
Master Makeup With The Manor
Most importantly, we want you to feel like yourself on your wedding day, so steer away from anything that makes you uncomfortable. Keep in mind that with makeup, everything differs for each individual. It might take time to find your perfect look but experiment beforehand to help ease the process when searching for that staple look. Call The Manor for all your other wedding day needs.  The wedding planning experts at The Manor can help clear your plate so you have more time to focus on finding your perfect makeup look.  Whether you need a venue, caterers, music, or more, The Manor has you covered.  For more tips on how to plan your perfect wedding day, contact The Manor at 973-325-2060.