Ways to Increase Guest Comfort at Weddings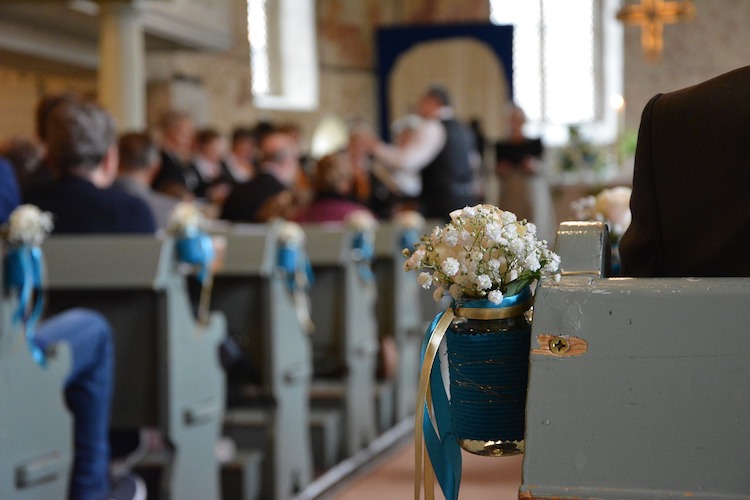 Almost every bride probably started dreaming about her wedding at a young age. The perfect wedding consists of pretty flowers, good music, and lots of drinks. An essential factor you'll want to consider during the hectic wedding planning is guest comfort! You want your guests to feel comfortable and appreciate the night just as much as you will. With all your guests at ease and enjoying the celebration, the atmosphere and vibe will be everything you are dreaming of.
The big day will center around you and your soon-to-be wife or husband, but it's also about your guests! Those traveling from near and far will appreciate the efforts you'll take to intensify their comfort, making for a great evening with immaculate vibes. Our wedding experts have compiled a list of ways for you to maximize guest comfort at your celebration.
Greet Your Loved Ones with Welcome Bags
Welcome totes or guest goodie bags will be a hit among your invitees. This is a wonderful way to greet them and show your appreciation and thoughtfulness for their comfort. On what to include in the bag, consider some bottles of water, mints, painkillers, and a thank you card. Starting the celebration with this sweet gesture will immediately raise your guests' attitudes and start the night in a positive way.
Hire Convienent Transportation
The night-long fun ends when it's time to figure out how to get home. Take away the pressure and stress for your guests by arranging a means of transportation for them to and from your wedding. They will feel extremely taken care of and have the opportunity to really let loose on that dance floor. Consider shuttling them with a minibus or using a car service for individual rides.
Serve Late-Night Comfort Food
Your guests will likely work up quite the appetite dancing into the late night. An evening handout of quick, delicious snacks will keep them happy and energized. French fries, chicken tenders, veggie skewers, and more will serve your guests well when they're craving a late-night snack to keep the party going.
Incorporate Comfy Lounge Furniture
Of course, your wedding will be elegant, but in the name of comfort, throw in some lounge furniture around the venue. We recommend placing the chairs or sofas close to the dance floor so they will be close to all the action. As a rule general rule of thumb, you should expect more than one guest will need to take a comfortable load off throughout the night.
Hand Out Dancing Shoes
Those flashy high heels and tight loafers probably don't feel as good as they look. Try throwing together a basket of cheap flip-flops for your guests to slip on for a more comfortable dancing experience. This is an easy and inexpensive way to show your friends and family that you are thinking about them.
Plan Exciting Activities
There are parts of a wedding that may seem dragged on for some guests. For example, while you are busy taking photos with the bridal party, schedule some type of activity to keep your guests busy and happy. During down times like this, incorporate small and fun activities such as a photo booth or a book/wishing tree for guests to write well wishes on.
Supply Weather Appropriate Items
If you're hosting an outdoor wedding, consider providing simple items that your guest may need. Sunscreen, bug spray, fans, and more are easy and practical items to offer your guests. If you are planning a wedding during the colder months, try keeping some small blankets or shawls for the guests.
Raise a Toast
A short and sweet toast dedicated to thanking your guests will surely spark a smile. Showing your appreciation for your loved ones will also display a sweet acknowledgment and thankfulness. Every guest deserves a quick thank you for coming to celebrate you, but perhaps give a shoutout to those who helped plan the day and your wedding party. Small tokens of recognition such as this one will go a long way in ensuring the comfort and joy of your wedding guests.
Provide Hotel Accommodations
For some of your wedding guests, getting to your celebration may mean taking long flights or drives to get there. Setting up a hotel for them will ensure their comfort and peace of mind. Many hotels offer room blocks, or a group of rooms that a hotel sets aside, in which only your guests can book. Many times, a hotel will offer group discounts. These room blocks may only be available for a period of time, so be sure to notify your guests of the deadline for booking, or else they may miss out on the discount or being able to stay at that hotel altogether.
Your Wedding Is About You, But Don't Forget About Your Guests
Small gestures, like the ones mentioned above, will make a huge difference in the comfort of your guests and the fun atmosphere of your celebration. Amid your wedding planning craze, take some time to organize some easy accommodations for your guests. They will appreciate it more than you know, and you will feel better knowing you put your best foot forward in creating the perfect celebration.