Top 10 Exotic Honeymoon Destinations For 2018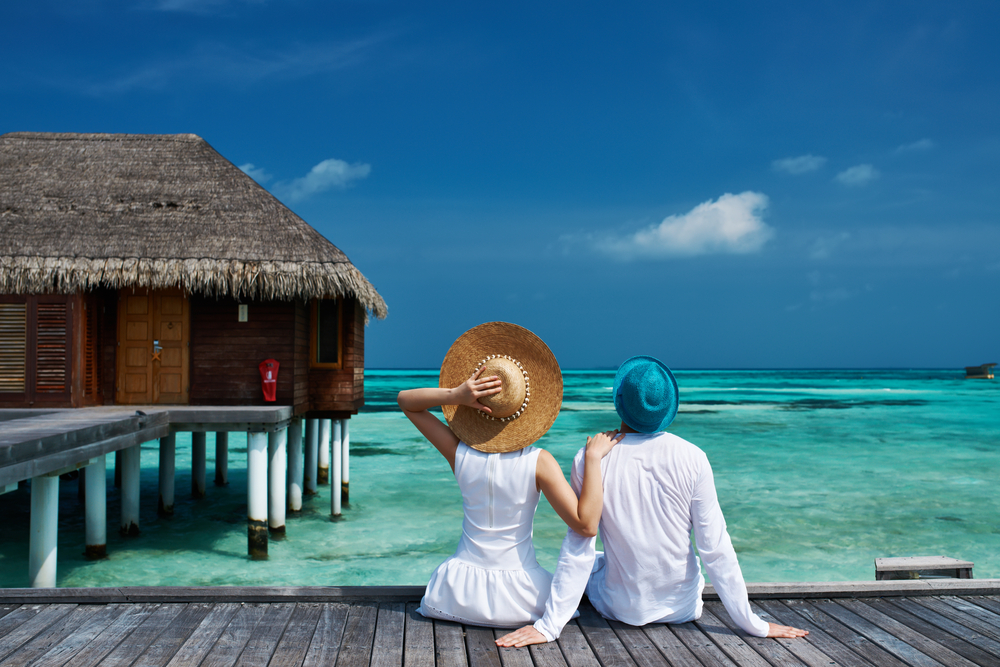 Now that you've said, "I do," it's time to plan your romantic trip of a lifetime. Many couples incorporate their dream honeymoon into their wedding planning, and so the wedding planners at The Manor have the inside scoop on the top hot spots across the world. To give couples a global taste of what each destination has to offer, grab your passport and get whisked away to one of these top 10 honeymoon destinations for 2018.

1.) Bora Bora
Halfway across the world in the South Pacific, you will find the island of Bora Bora tucked away in French Polynesia. Known for its private overwater stilted bungalows set ontop mesmerizing turquoise lagoon and luxury sand beaches, Bora Bora gives newlyweds the perfect retreat to an island paradise. Couples with a sense of adventures will get a thrill with activities like snorkeling, scuba diving, shark-feeding, jet-skiing, or take a 4×4 excursion across the island to scale Mount Otemanu, one of the two dormant volcanoes at the center of the island.
2.) Santorini, Greece
Santorini is Greece's most popular island among the Cyclades islands, set high atop an active volcano overlooking the Aegean Sea. It's beautiful, whitewashed architecture seen on cliffs are unlike any other destination in the world. Santorini's volcanic activity plays a role in many of the island's most popular activities from sunbathing at the molten-dyed Kamari Beach to exploring ancient ruins once buried in ash at Ancient Akrotiri. For active couples, Santorini offers a popular hiking trail from towns Fira to Oia. Wine lovers can explore vast vineyards on guided tours or sit down and enjoy the olives, tomatoes, and other fresh produce and fish featured in exquisite Mediterranean dishes.
3.) Maldives
Way out in the Indian Ocean between the Arabian and Laccadive seas, roughly 500 miles southwest of Sri Lanka, are the Maldive islands. This chain of 2,000 islands including 26 coral reef collections of islands, offer private overwater bungalows and secluded beaches. In fact, each resort is on its own private island. Newlyweds looking for an excursion can flock to the Maldives for a wide variety of water activities. For a once in a lifetime sight, be sure to book a trip to Baa Atoli, during the right time of year, you'll get the once in a lifetime opportunity of seeing the ocean light up at night with thousands of bioluminescent plankton. The Maldives are also one of the top destinations to see marine wildlife such as whales, Manta Rays, and Hammerhead sharks.
4.) Kauai, Hawaii
Kauai is the oldest island in the Hawaiian island chain. Referred to as the "Garden Isle," it is one of the most naturally beautiful, and wettest places on earth. From it's lush and diversifying landscape featuring rain forests, waterfalls, pristine beaches and Hanalei Bay. Kauai also features 15 miles of cliffs, which you can recognized from various movies filmed on the island. With only two major highways and small resorts, Kauai appeals to the outdoor enthusiast. Couples can explore the "Grand Canyon of the Pacific" at Waimea Canyon of the Kalalau trail. After the adventure, newlyweds can hang with the locals in Waimea town and Hanapepe full of shopping, hotspots, and cuisine in a charming atmosphere.
5.) Fiji
Coined as one of the friendliest places on earth, Fiji is the ultimate honeymoon paradise for vacationers looking to embrace South Pacific culture. Consisting of 300 islands, most are familiar with Fiji by its rugged landscapes, coral reefs at Taveuni and coconut palm trees along crystal clear lagoons that touch white sand beaches. The tourist town of Nadi is where honeymooners can taste ethnic cuisine of fresh fish and curry spices. For a real sight, couples can visit Beqa Island to see firewalkers, over 100 dive sites, and a wide range of enchanting sea life.
6.) Thailand
The busy metro city of Bangkok has a lot to offer Honeymooners. Start your eastern world vacation by touring the floating markets via boat in the Bangkok canal. Taste the flavors of Asian cuisines with various types of pad Thai curry and coconut as well as hot and sour soups. Fresh exotic fruits like papaya, tamarind and jackfruit are a delicacy to try. Couples can relax on the crystal clear beaches of Phuket, Krabi, and Khao Lak and enjoy massages. For entertainment, try seeing a Muay Thai boxing match or visit an elephant park or Tiger Cave temple.
7.) Florence, Italy
Romance is never far away in Italy. Put on your walking shoes and stroll across the Ponte Vecchio bridge at sunset, cobblestone streets, picturesque plazas, Boboli gardens, historic museums, the Duomo cathedral, and charming trattorias in Florence, Italy. Create lasting memories hiking the Piazzale Michelangelo for breathtaking panoramic views. And the rolling hills and vineyards of the Tuscan countryside are only a short drive away. Italian food exclusive to Florence is a must-have from sipping on Zuppa difagioli to trying Panzanella and Papperdelle with cinghiale sauce.
8.) Turks & Caicos
A popular destination in the Caribbean, honeymooners often stay at the many resorts on Grace Bay before day tripping to Providenciales Island for water-activities, snorkeling through crystal clear water of Smith's Reef, or exploring the Conch Bar Caves. When the sun sets, hang with the locals and enjoy a traditional Fish Fry or authentic Carib cuisine at Coco Bistro.
9.) Costa Rica
Adventure enthusiast couples can enjoy Costa Rica in its entirety. From hiking active Arenal Volcano, national parks, water rafting, and zip-lining through the jungle to snorkeling or scuba diving in the clear blue waters, or submerging in hot springs. The romantic side of the county offers stays at the premiere resorts, dipping in hot springs, or a moonlit dinner on a sailboat or a couple's massage in a beach casita. The island's motto – Pura Vida, or the simple life – will leave you feeling rejuvenated long after your honeymoon ends.
10.) Budapest
For couples that enjoy a taste of the old world, Budapest offers an enjoyable mix of relaxation, art, history and romance. Newlyweds can enjoy the ease of transit as they sightsee ancient ruins such as Castle Hill and Fisherman's Boathouse. Couples can dine on authentic cuisines such as Goulash and Chicken Paprika coupled with Hungarian Bulls' Blood red wine. For the ultimate spa day, take time to relax and unwind in world-renowned thermal springs.
Planning Your Honeymoon
What's your idea of a perfect honeymoon? The wedding planners at The Manor can help plan your ideal wedding and plan your memorable honeymoon from start to finish. Contact a top New Jersey wedding venue near you to have the wedding of your dreams!