Unexpected Ways to Add Florals to Your Wedding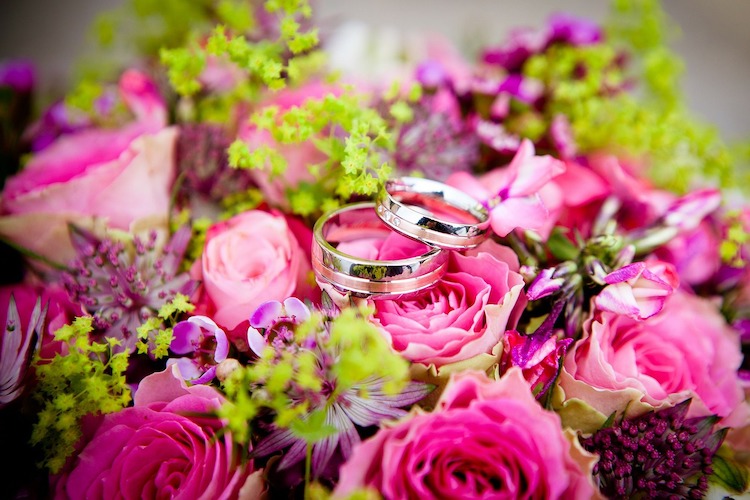 When it comes to decorating your wedding with florals, your bouquets and centerpieces simply aren't enough. Sure, you want to walk down the aisle with a beautiful arrangement of flowers, but don't stop there! You and your fiance have countless possibilities to incorporate stunning florals throughout your wedding ceremony and reception.
Wedding trends swiftly come and go, but there is one element that you can always count on at weddings – florals! With the help of our Knowles wedding experts, you will show off beautiful and unique floral decorations throughout your big day. With little and big touches, our flower additions will set you up for the most incredible blossom arrangements.
Where and How to Add Florals
From the ceremony to the reception, there are numerous ways to incorporate more flowers into your big day. Each of your bouquet arrangements and decorations should tie together with your wedding theme to have everything flow together seamlessly.
Place Settings
Wedding table settings come in all shapes and sizes, but there are a few components that everyone should expect. Every guest and their place settings will need utensils, dishes, drinkware, and a napkin. Add roses, lilacs, tulips, dahlias, or your other featured wedding flowers to top off napkins or decorate place cards. Small touches like these at your guests' place settings will complement your centerpieces and liven up the venue.
Floral Chandelier
A handmade floral chandelier is a wonderful decor item to stand out at your wedding. Work with your florist to create this piece, or even consider doing a DIY! There are lots of online instructions to teach you how to put this together, such as this one by ProFlowers. Hang a floral chandelier over the dessert table, above your altar, or on top of your wedding party table for an elegant and unique floral decoration.
Monograms
Floral monograms will cover giant letters, such as your initials or last name, in beautiful flowers. Personalize this decor item with either fresh or faux flowers and greenery. A floral monogram can be uniquely designed to match your wedding theme. Some examples of letters you can use to create floral monograms are Mr. & Mrs., the date of the ceremony, or your first initials. This is also something that you can order with a florist or easily prepare by yourself with a DIY.
Decorate Your Chairs
Achieve a natural, blossoming aesthetic by adding flowers to your guests' chairs. Attach a few blossoms to the legs of the chairs for a smaller decorative touch. To go a little grander, add some larger hydrangeas, peonies, orchids, or other blooms to the top corner of the chairs for a more salient appearance. Even try weaving a longer vine through the chairs. There are many ways to add flowers to your wedding chairs that can be extravagant and eye-catching or modest and simple.
On Your Shoes
Take your bridal footwear from classic to extraordinary by adding a floral touch. You can do this with a delicate and modest look or go all out with your flowery shoes. Incorporating flowers into your shoes adds an element of glamour to your wedding day style and pulls all your floral decorations together.
Cocktails
With so much attention given to the bar and its decor, don't forget the drinks themselves! There is a great opportunity to embellish the beverages and incorporate more flowers and decor. There is an abundance of ways to dress up a cocktail, but there is one superior way that takes the cake at a wedding – with fresh flowers. It is very important that you choose florals to add to cocktails that are not harmful in drinks and were grown without pesticides.
Floral Backdrops
A flourishing flower wall can work just about anywhere at your wedding: by the ceremony entrance, at the reception behind a dessert table, behind you and your significant other during your vow exchange, and so many more. Flowers bring a wedding backdrop to life and have a dynamic array of uses. Not only do these backdrops make for an amazing photo op, but they work together with your wedding theme to tie together the florals.
Decorate the Cake
From roses to peonies, any fresh flower will add an elegant garnish to your cake. Choosing the right flavor for your wedding cake is very important, but so is selecting a design that fits effortlessly with your overall theme. There are so many options to add flowers to your cake! Try assimilating them into your cake topper or arranging the blooms to swirl around the body of the cake.
Garland-Draped Ceilings
This flower trick will work both indoors with ceilings and outdoors with tents. Draping garland and florals from the ceilings of your wedding will elevate your reception and decor. In fact, hanging greenery is a simple way to save on your wedding budget. This garland is usually sold in bundles at a cheaper price than many expensive flower arrangements. With lots of flowers and a limited floral budget, hanging garland will add color and freshness to your special day.
Accent the Groom's Tie
Fashion your soon-to-be husband and his groomsmen by pinning a flower or two to their ties or suits. A bright boutonniere is one of the most popular wedding day accessories. Personalize yours with a hint of your wedding flower theme to add pops of florals and complete the flower look.
Use Flourishing Blossoms to Grow Your Floral Additions
Adding flowers around your wedding in the most unexpected places will help tie your decor together. Work on matching your ceremony arrangements and reception centerpieces to create a polished look. With the help of our Knowles Hospitality wedding experts, you will add flowers and decor in places you never thought possible to create the floral masterpiece of your dreams.