How to Reschedule Your Wedding Due to COVID-19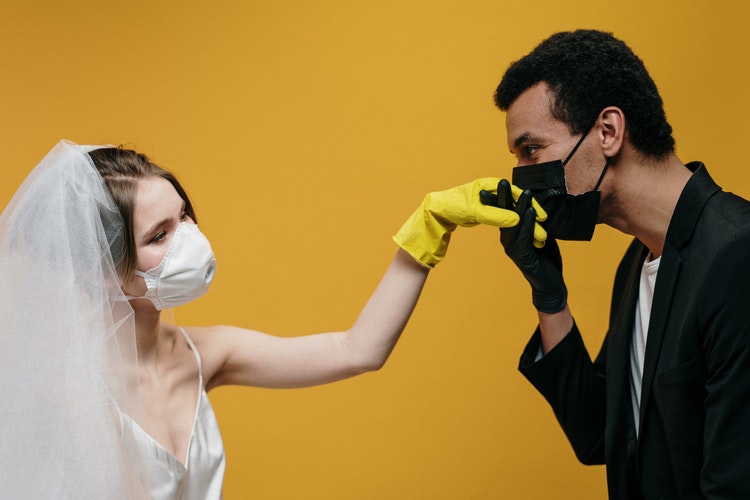 Although frustrating, wedding delays due to COVID-19 keep arising globally. Transitioning your wedding from a large-scale event to a smaller, social-distanced event may seem impossible, but don't worry. By staying informed and having a solution-oriented mindset, you can seamlessly reschedule your celebration without any hassle. While not ideal, our wedding experts will show you how to roll with the punches and reschedule your event
Be Informed and Proactive About Rescheduling Your Wedding
When rescheduling your wedding, you'll want to make informative decisions while maintaining good communication with everyone involved. Be proactive: dip your hand in all areas to make sure you remain aware of all closing statuses.
The first step to rescheduling involves staying knowledgeable about all COVID-19 guidelines. The ever-changing pandemic may cause these guidelines to shift frequently as time passes, so don't forget to check the news daily.
Remember to discuss all available options with your wedding vendors. If you notice that COVID infections continue to surge, you'll want to proceed with caution when it comes to setting your wedding date. Furthermore, you cannot forget to routinely check-in with your wedding venue, caterers, and all other vendors about their COVID-19 protocols and expectations. Always read the fine print on your contracts so you understand all the policies like the back of your hand
You'll also want to keep your guests up-to-date with all the new information you have. You can share new information by creating a private Facebook event. This provides you with a perfect opportunity to communicate health and new safety measures if they arise. Furthermore, you can write a Q&A section on the event with answers to all your guests' burning questions. This way, you won't have to make a million calls, and can instead send out a large-scale email with the website linked inside.
Remain Flexible When Rescheduling Your Wedding
To stay in a solution-oriented mindset, you may eventually have to make difficult decisions such as rescheduling your wedding a second time, or even drastically thin out your guest list. Although you have an idea in your head of your perfect wedding, you may need to pursue other ceremony and reception formats. Instead of holding the ceremony in your venue, consider an outdoor location as an alternative! Even in the cold, you can transition to this outdoor format by utilizing tents and space heaters.
Another consideration is your guest list. COVID-19 guidelines may stipulate guest list limitations, so think ahead about whom you want at your wedding. A smaller, intimate wedding is a great way to celebrate on your timeline. Your wedding guest list will ultimately impact your seating arrangements and catering accommodations, so you'll want to plan this early.
While this is your big day, you still need to protect your wedding guests. Are there ways to pull off your original ideas by implementing certain social distancing layouts? Talk to your wedding venue to see if you can make these mandates work A good way to try to still invite the maximum amount of people under the COVID-19 guidelines is by placing them in seating pods. Another plausible method to better ensure your guests' health and safety involves offering rapid COVID testing kits for everyone in attendance.
In the worst-case scenario, where you're unable to host your wedding reception where you want to, with the people you want to celebrate with, ask your dream venue about their availability dates a year-out. Instead of an immediate post-wedding reception, you can host a large first-anniversary party with all of your loved ones present.
For help planning your COVID-compliant wedding, contact the experts at Knowles Hospitality today. Our NJ-based wedding planners can assist you in pivoting your wedding to a much safer option.