What Should Guests Wear to A Fall Wedding?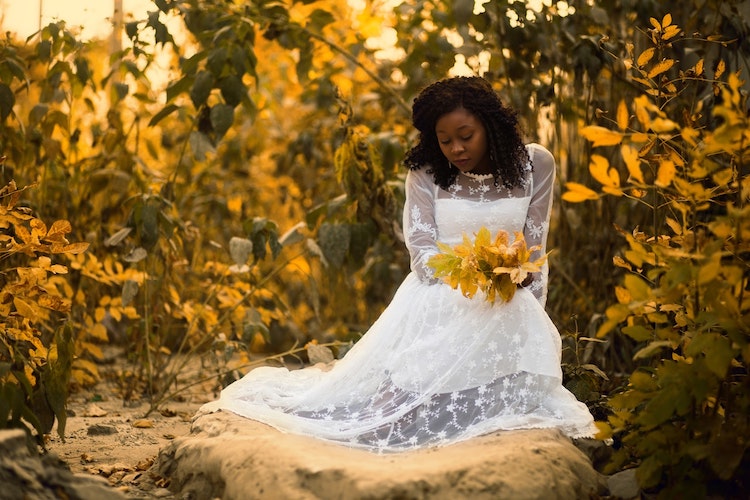 The Fall wedding season is upon us which means it's time to stock up on some incredible looks! Start planning now because Fall weddings are somewhat difficult to maneuver an outfit for, especially if it's an outdoor ceremony. Sometimes it's cold or warm but it really just depends on the day. You don't have to feel lost when deciding on your Fall wedding guest look because Knowles Hospitality knows all the tricks in the book when it comes to Fall formalwear. Allow us to enlighten you on your options and a couple of rules when picking out your adorable Fall wedding wear.
Keep It Formal & Long at a Fall Wedding
First things first, check your wedding invitation for attire rules and clues. It may be more casual, or it could be a full-on black-tie moment so do your homework. To play it safe though, always stick with longer lengths. Choose a flowy dress that reaches the floor or pick something that reaches just below your knees that has sleeves. Fall weather is very unpredictable, especially on the East coast, so it's never a bad idea to come prepared by covering up. Not only does some extra length help with extra warmth, but it also is within the Fall fashion season. You don't see too many ladies rocking mini dresses in the Fall because it's out of season. Get festive and go with the upcoming harvest season in your appropriately charming dress!
Add Some Fall-Inspired Colors to Your Outfit
Get in the spirit of Fall! It's full of warm colors, crunchy leaves, and beautiful breezy weather so why not match that? A little color never hurt anyone. For your Fall wedding guest look, jewel tones are the way to go. Of course, black and dark shades are acceptable but have some fun with a splash of color. Go with a gorgeous emerald green color or perhaps a lively plum for your look. Don't be afraid to mess around with patterns either. Floral print is always the go-to usually, but give polka dots and abstract brush stroke patterns a try too. Don't let the breezy Fall season let you think that solid colors are your only option!
Play Around with Fun Textures
Not only is color super exciting to play with for a wedding guest look, but textures are as well. A lovely dress trimmed with a lace pattern or sleeves is a charming way to stand out with your quirky style and also stay true to the season. Mix and match Summer and Fall with a long satin dress. Usually, you see satin during the Summer and Spring for its lightweight fabric, but it's a staple for the Fall too! Be sure to pick one that has enough length to avoid looking like you're headed to the beach. Oh, we have to mention velvet as well. Velvet is a staple during the Fall and Winter fashion season for its fun texture and thick material. Any dress in velvet looks fabulous and can be pulled off for a Fall wedding look any day.
You Can Thank Us Later for Your Fall Wedding Guest Look
The Fall season is a gorgeous time of the year with leaves changing colors and the sun setting faster. It's also a great time for a wedding, not too hot and not too cold. As a frequent wedding goer, it's not a bad idea to build a collection of formalwear for different seasons for all occasions, most importantly weddings. Dance the night away in your perfect Fall wedding guest look and always be prepared for the next one! Want some advice on how to plan your Fall wedding? Contact Knowles Hospitality at (973)-731-2360 and let our wedding planners create a magical day that your guests won't ever forget.