What You Need to Know About Bridesmaid Proposals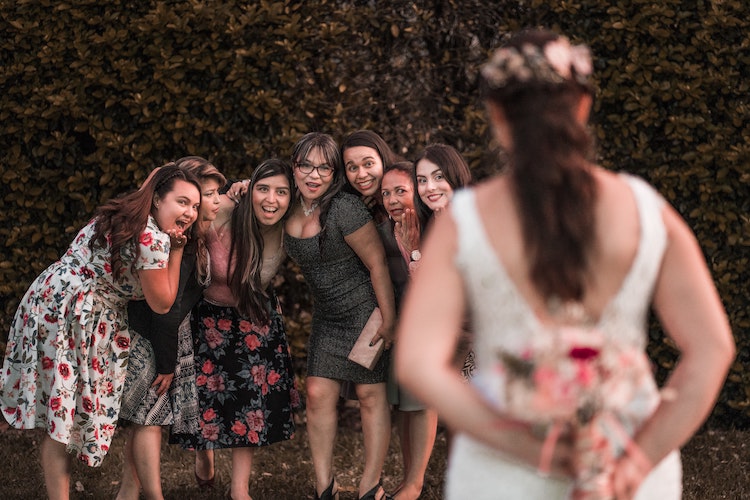 Congrats! After waiting patiently, you finally received your long-awaited marriage proposal from your husband-to-be! Now it's time to approach the lovely ladies you want to include in your bridal party. These days, brides "propose" to their friends and family, asking them if they wish to partake in the fun (and stressful) task of being their bridesmaid.
An essential part of any wedding, bridesmaids sit ready to help and support the bride through every step of the wedding process/s. There is so much that a bridesmaid does and spends time on for the wedding, but how do you go about popping the big question to your gal friends?
What are Bridesmaid Proposals?
Once a bride chooses who she wants in her bridal party, it's time to start sending out some proposals. A bridesmaid proposal is like any other proposal: you are asking someone an important question in the hopes that they will say "YES!" A proposal holds a lot of meaning—it shows that you care about this person and want them involved in this momentous occasion. Everyone takes sentiments differently, and a bridesmaid proposal is no exception. But this time, it's up to the bride to decide exactly how to pop the question.
Popular Bridesmaid Proposal Ideas
When it comes to bridesmaid proposals, you can take several unique approaches. For instance, some creative brides build elaborate boxes filled with goodies for their soon-to-be bridesmaids. Other brides, however, may opt for a streamlined method through a straightforward text message.
The approach ultimately depends on the bride more than anything else. A subtle bride may propose by giving their future bridesmaids a small sentimental gesture, while a bolder bride may throw an extravagant party to celebrate her bridesmaids. Some brides incorporate the theme of their weddings, if they have one, into their proposals, while others make it personal to each bridesmaid.
Will You Go Big or Small?
You must consider each bridesmaid's likes and dislikes when planning a bridesmaid proposal. If you want something out of the box, you will want to make sure that you don't offend any of them. For example, make note of their likes, dislikes, and other factors such as allergies. For this reason, most brides will typically opt for a simple bridesmaid proposal. Basic can be better when recruiting a group of gals with strong, boisterous personalities.
But of course, as we touched on earlier, the proposal depends on the bride's preferences. You need to decide what feels more like you. Ask yourself:
Are you the type to get your friends some flowers, or would you rather invite them out for drinks?
Are you having a big wedding or a small one?
Are you the type of person to incorporate a theme, or would you rather make it personal to each bridesmaid?
Again, your opinion matters the most. If you're a bride who loves grand eye-catching gestures, go big with your proposal! If you aren't, ask without all the bells and whistles.
How Will You Propose to Your Bridesmaids?
You need to be comfortable with every decision you make; after all, this time is all about you and your happiness. Most people will appreciate the sentiment, no matter how you ask. It is vital to remember that you are asking these people to be a part of your wedding because you love them. If they feel the same about you, they will gladly accept whether you get a plane to write it in the sky or decide to send them a text.
What matters most is that you have your support system by your side through this amazing, but stressful, process. You do you and everything will happen exactly the way it needs to happen. Just relax and remember to have fun! Don't forget to subscribe to our blog for extra wedding planning tips, guides, and inspiration.