How to Choose the Perfect Wedding Dress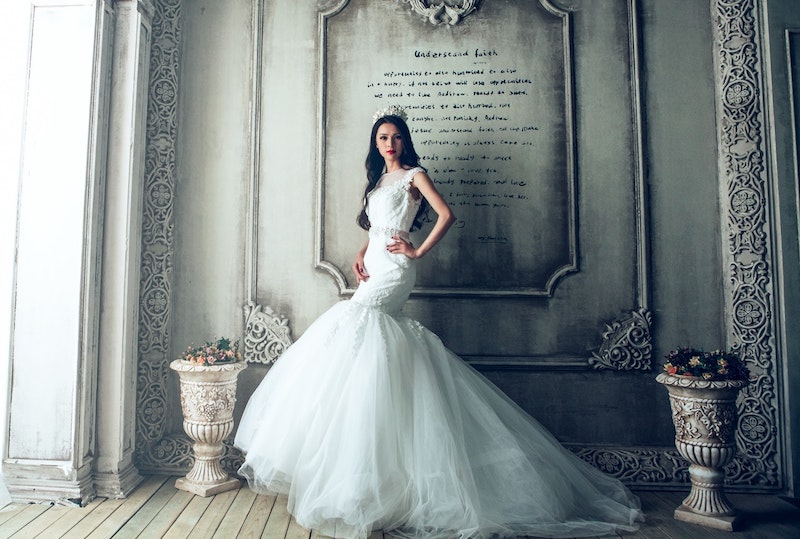 Dress shopping of any kind can be a stressful adventure filled with ups and downs. For many of us, the last time we've worn such an opulent dress was for junior prom and the idea of buying a gown may be giving us major flashbacks.
Buying a wedding dress is an investment. It will probably be the most expensive dress you ever purchase. With the added pressure of wedding day pictures and opinions from extended family, the road to finding the perfect dress is bumpy for everyone. Every bride should feel like they're on cloud nine during their consultation, so we've curated some wedding dress shopping tips so you can find be prepared to find the dress that perfectly reflects you on your special day!
Think Beneath The Surface: What You Should Wear To Your Appointment
Yes, ladies, we're talking about undies. Wearing the right shapewear and bra will make trying on dresses easier as it will amplify how the dress should look. Constantly changing in and out of dresses can be tiring, so wearing something comfortable is going to be essential to helping you keep your cool.
We all know you can't choose the perfect dress if you're stuck imagining what it would look like if you had on a different bra, pair of underwear, or shapewear. If you have an idea of what kind of dress you're looking for, be prepared with those necessary items. Want to try on that sexy backless dress? Wear or bring a stick-on bra. Looking for a hip-hugging mermaid silhouette? Bring Spanx to wear under the dress so you can walk out of the dressing room with the same confidence you'll have on your wedding day.
Put The Pieces Together
If you've found a potential dress, nothing is better than adding the right accessories to fully visualize how you will look on the most important day of your life. It's always a good idea to bring shoes that are close in height to the ones that you feel comfortable wearing on your wedding day. When you find a dress you really like, this is the perfect opportunity to play it up. Planning out a prospective bridal look during your appointment will help you decide on the dress of your dreams, especially if you're going to be playing with different colors and shades of white.
Going to be incorporating an heirloom or special item? Make sure you pack accessories like a veil from your grandma or a hairpiece that you absolutely fell in love with. Those items are important to bring with you so you can make sure that they don't clash with the dress.
Your Entourage: Less Is More
If a Say Yes to the Dress: Atlanta marathon on a sick day teaches you anything, let it be this: keep your entourage small. There is a pattern of brides that go in with everyone from mom, to their neighbor's dog, to their three times removed distant cousin, and leave without a dress. Why do they leave empty-handed? Simple – there are too many cooks in the kitchen.
To ease your stress, we've come up with a golden wedding dress shopping rule. There are typically eight kitchen positions for any given restaurant staff. Eight should be the max number of family and friends you invite to go with you to an appointment. Though we suggest that you keep it around three or four important people, make sure you use your best judgment when inviting people to your appointment. A smaller entourage will make it much easier to come to a general consensus on the gown of your dreams. With fewer opinions to listen to, you'll be better able to focus on choosing the right dress because this day is all about you.
Remember To Focus On You
The day you go wedding dress shopping should be all about you. If you love the dress, it's yours. Remember that you're not buying the dress for anyone else, so today is not the day to compromise in favor of someone else. This process should be a dream-like experience and you should only worry about is about pleasing yourself. It's not worth pretending to like a dress or putting it back on the rack because one person doesn't like it. When you find the dress of your dreams, you'll know it's the one. Don't let anyone stop you from making your special day about anything else but you!
Be Realistic
Now that we've addressed the people pleasers we can address the dreamers. Going into your appointment, be realistic about your budget. Bridal consultants are there to make sure you can find a beautiful dress within your price range.
For our pre-planners, if you've had expensive taste your whole life lowball yourself so that you have room to wiggle when you start shopping. Planning a base budget with some room to move will allow you more options to move up in price range if you wish. Falling in love with the perfect dress and have it come in under budget is going to be a great bonus compared to finding the perfect dress that's way out of reach – luckily this scenario doesn't happen too often outside of reality TV.
Get Visual
Putting together a vision board with inspiration and dress ideas is going to help guide you through the dress shopping experience. Showing your consultant some images of dresses, you want to try on will speed up your appointment so you can avoid trying on unflattering silhouettes.
Following these tips will surely take some pressure off your back so you can focus on every aspect of your dream dress. Take a deep breath ladies, it's time to go shopping!