How To Have The Best New Year's Eve Wedding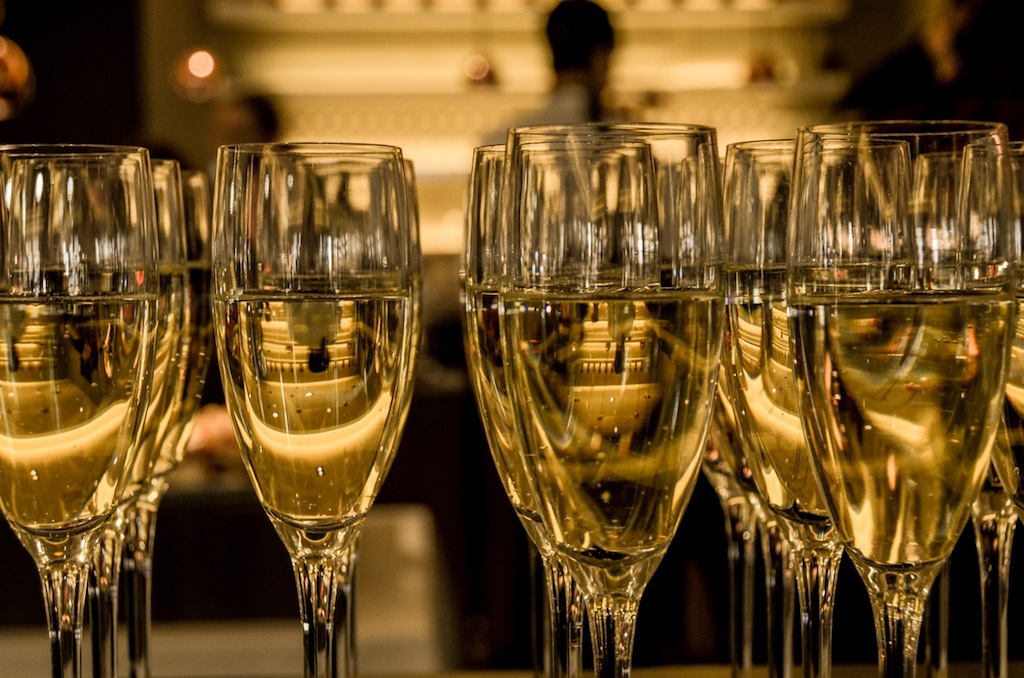 There's no bigger, bolder and glitterier time of the year to gather together with friends, family and a significant other to celebrate than at New Year's Eve.  With everyone already in the celebratory spirit of ringing in the new year, December 31st is the ideal time to chime in on the exuberant energy and choose this day to be get married. Still not convinced? Most people assume that a New Years wedding would be more expensive since it's a holiday; but it's a holiday in winter, which is still considered "off-season" for weddings.
The Manor has taken the most brilliant New Year's Eve Wedding ideas, polished them all up until they sparkled and now we happily get to share with our readers how to have the best New Year's Eve Wedding.

Creative Save The Dates
This time of the year is not for the plain and mundane. No! Absolutely do NOT hold back on glitter, shine, or sparkle, especially when it comes to designing your "save the dates" and wedding invitations. Why? Because you should think of your invite as your initial party starter and we promise your guests will love it.
Consider sending out cards that feature a clock, which have the hands pointing very closely to midnight and read, "Let the Countdown Begin!" or attach loose confetti inside the card. You could also write, "Resolution #1 Attend (write name) Wedding" on the RSVP cards attached.
A Timely Theme
To bring your wedding together consider a theme such as black tie, featuring an invite that instructs guests to wear their best. Bring back the roaring twenties with feathers and top hats costume pieces and photo opts. Turn back time with a time theme with timeline and vintage photos of both sides of the couple's family, a photo timeline of their relationship, and feature different style and size clocks on tables and walls.
A New Years Eve wedding also calls for an excuse to have your bridesmaids wear something they might actually wear for years to come. What gal doesn't love a little sparkle or sheen on a dress or shoes? Whatever bridesmaid dress or shoes a bride chooses, its best to heir on the side of sophisticated and classy. Groomsmen can look extra dapper on this day with a sleek satin tie or even a top hat.
Bold Decor
Your decorations will put your New Years Eve wedding over the top! Aside from providing confetti poppers, sparklers and noisemakers for your guests to enjoy, you can rest assured the material of your table linens should stay in the color palette of the holiday; black, gold, white. Wedding dinnerware and floral arrangements can remain elegant but no need to go over the top, as other décor usually will be more pronounced.
Make each tablescape look elegant with gold taper candles on top of satin black, gold or white tablecloths. Also, glitter or metallic dipped champagne flutes and bottles make perfect vases to hold simple understated floral arrangements. Have some fun and include cute notes for guests to write their resolutions and reflect upon fond memories of friendship through the years.
Bring Out The Bubbly
What is a New Years Eve wedding without champagne? It's the favored choice of drink for the night by most adults; therefore, make sure the bar has an abundant supply to pop corks through midnight. To make receiving your champagne drinks a little more interesting, create a champagne tower out of the glasses. You can choose to fill each glass in the tower or simply stack glasses. To make your bar menu more fun, offer different champagne cocktails; fill with various fruits or cotton candy, which causes the champagne to change colors with added sweetness. You can also offer champagne sorbet.  If winding down the evening you could offer champagne flutes with warm milk and a cookie garnished on top. To not have your younger wedding guests feeling left out, serve sparkling apple cider.
When The Clock Strikes Midnight…
Conclude your wedding at midnight or kickoff an after party! If it's party time be sure that you have the DJ spin the top hit songs of the year, and your Bartenders booked into the wee hours of the night.
A heartwarming and useful wedding favor is to include tiny alarm clocks set for midnight with a note that reads "We've had the time of our life celebrating our wedding with you".  Goodie bags perfect for a New Year's Wedding include "Midnight kisses", bags of Hershey kisses or mini brut champagne to take home.
A Happy New Year
A new year is also a new chapter in a couple's life as they begin a life together and guests will be excited to partake in a joint celebration. One of the best things about a New Years Eve wedding is that you'll never forget your anniversary. So don't miss out on having a stunning and unforgettable wedding planned by our expert wedding planners at The Manor!