New Trends in Wedding Dresses 2014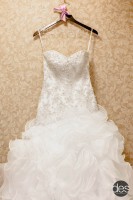 The new trends in wedding dresses for 2014 are described as being timeless, classic, elegant, and romantic. At our NJ wedding venue, we see so many brides arrive looking like they just stepped out of a bridal magazine's photo shoot, or right out of Downton Abbey. Each bride is a vision, wearing the top 2014 wedding gown trends beautifully. Here are some of the leading trends to keep in mind as you search for your perfect wedding gown:
Lace wedding dresses. Inspired by Kate Middleton (now the Duchess of Cambridge), at her royal wedding, brides love the look of a full lace dress with a high lace neck and long or three-quarter lace sleeves to make the most of this timeless and elegant wedding dress trend. Brides at our wedding venue in New Jersey often arrive wearing gowns with an heirloom lace feel, or modern lace designs that the top bridal fashion designers are using in their 2014 wedding gown collections.
Beading. Gowns are very intricately-embellished, with thousands of hand-sewn beads creating an ornate look and a combination 1920s/1930s wedding gown look and modern wedding gown style. Spring 2014 wedding gowns and Fall 2014 wedding gowns feature beads in copper, tan, especially gold colors. Beading may be on the bodice, skirt, sleeves, train or hems of the skirt and veil.
Embroidery. Another ornate element of the top wedding gown trends 2014, hand-sewn embroidery effects add gold threads to an ivory or champagne-colored gown, or other colors of subtle accenting such as pink, red, blue, green, or silver.
Appliques. These little details are hand-sewn onto bridal gown styles of 2014, widely-scattered or placed in dramatic groupings, and they may be petite lace floral designs, flower petals, leaves, rounds, or the new top trend in wedding gown accents: vine motifs.
Feathers. Departing from the romance of lace but still being an ultra-feminine wedding gown style, feather accents on a wedding gown may be little tufts on the ballgown skirt, or a short skirt may be covered entirely with light, airy, feathers for a creative, artsy, modern feel.
Color. While the majority of brides will choose white or ivory wedding gowns in 2014, bridal gown designers like Vera Wang showed off pink wedding gowns that ranged from blush pink to mauve to deep berry shades. Other top trends in colored wedding gowns 2014 include gold, black-and-white, deeper tan, and jewel shades of blue and purple for big post-destination wedding parties or post-elopement celebrations (if the bride did a 'trash the dress' session with her wedding day dress and now wants a new look for this post-party.)
Dramatic dress backs, with lace detailing and keyhole cutout backs to show some skin, or illusion netting to give a light, ethereal, ballerina-type look to the dress.
Sleeves. Thanks to Kate Middleton, wedding gowns with sleeves are in, and brides are choosing from full-length, three-quarter length, flutter sleeves, or rounded cap sleeve as the top trends in wedding gown sleeves 2014. Brides who want no sleeves at all – since that too is a trend for wedding gowns 2014 – may go strapless or even with the goddess-like one-shouldered sleeve look.
The top 2014 wedding gown silhouettes are ballgown dresses for the princess wedding gown look, fit-and-flare dresses that hug the bride's curves and then flare out at the mid-thigh in soft ruffle effects at the bottom of the dress. Column dresses are popular, especially beaded numbers inspired by Downton Abbey and The Great Gatsby.
And short wedding dresses were all over the 2014 bridal fashion runways during Bridal Fashion Week in New York City. Short skirts show off legs (and the bride's shoes!) and may be a better fit for the city-chic bride's personality than a traditional long wedding dress. While the perfect dress for a garden wedding can be long and formal or short and sassy, brides are enjoying the new trend in short wedding dresses for their wedding day look or as their 2nd Dress Look for their receptions.
Sparkly belts. They're the accessory of choice for the 2014 bride. A thin or wider belt hand-sewn with sparkling crystals or rhinestones adds drama and flair to most styles of 2014 wedding dresses. Even Kate Middleton put one on her 2nd Dress look for her after-celebrations.
Capes and wraps. For fall or winter NJ weddings, a stylish cape or wrap in cashmere silk or faux fur adds a retro-chic look to a cool weather wedding style, and it adds to terrific wedding photos.
Pantsuits are a big trend now, for brides who don't wish to wear dresses, and top wedding gown designers are incorporating more pantsuit looks into their collections for this 2014 trend and as an option for gay weddings.
Your wedding venue will determine the style of wedding dress you'll wear, and which 2014 wedding dress trends will shape your look. A garden wedding venue in New Jersey will inspire your dream dress elements, perhaps including flowing fabrics, floral appliques and embroidery designs, more lace. And a grand ballroom venue in New Jersey will inspire you to more structured, high-fashion, formal wedding dresses that were shown on the 2014 bridal fashion runways.