Wedding Checklist: Bridal Gown Shopping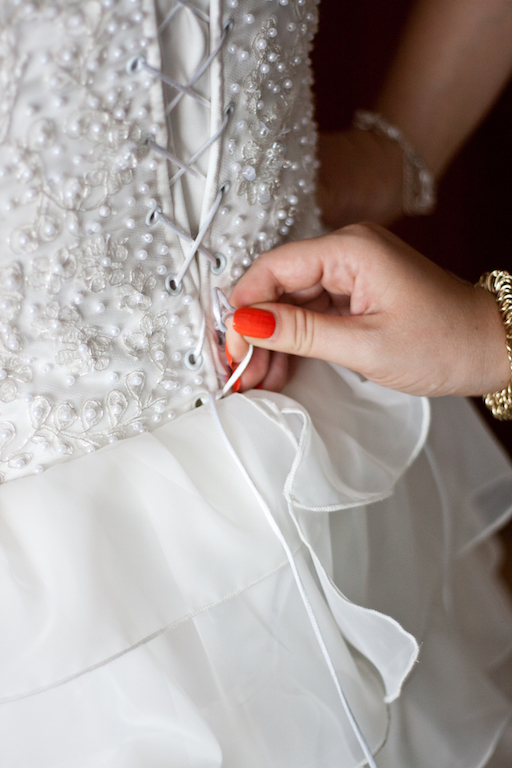 Ah yes, wedding dress shopping. This is surely the most sophisticated game of dress up and definitely one of the most anticipated pre-wedding moments for every bride-to-be. Along with her mother, sisters, grandmother, aunts, cousins and nearly every woman remotely close to the bride there is such excitement wrapped around this monumental shopping trip. The Manor has taken into consideration opinions from wedding experts, bridal fashion leaders and past brides, to create a perfectly tailored bridal gown shopping checklist just for you!

1. Brainstorm the types of bridal gowns that make your eyes light. Gather ideas by thumbing through popular wedding magazines, bridal shop websites you plan on visiting, and also creating a Pinterest board, which can make showing your collage to your consultant, simple.
If you practice a certain religion, take into account cuts and styles that are most modest. It's important to assess the price bracket of your wedding budget, keeping in mind the additional costs of alterations, tax shipping and prices of accessories like your veil, jewelry and shoes- can add up quickly.
2. Book your bridal salon consultation in advance. You do not want to wait until last minute especially if it is a busy season. Do your best to avoid the busiest day in the shop- Saturdays. Booking a bridal salon appointment also ensures the shop has your wedding dress style, and if not a reputable salon will pull a sample for you to have it ready upon your appointment.
To not deplete all your energy shopping, bridal salon experts suggest visiting no more than 3 shops in a day, if they are local. If you are traveling to specific shops in the New York City area, it's best to dedicate your time to one, maybe two. Bridal shop experts suggest starting your shopping 6-8 months before your big day. For those brides that have a good idea what you want, more particular brides should book 10 months in advance. Keep in mind the average alterations take approximately 8 weeks- and there are always alterations! Custom bridal gowns can take 6-8 months to tailor.
3. Bring necessary items to your bridal gown appointment such as the shoes that are similar in height for tailoring purposes. Also wear nude undergarments as you would your wedding day.
To ensure your day is enjoyable, plan who you will bring ahead. Think about whose opinions you truly value to lend helpful insight. To avoid overwhelming the salon staff and yourself, invite no more than 2 or 3 people. Remember this is an intimate moment and one you have probably been dreaming of, the fewer people the better. Instead of feeling pressured to invite more than a few people on such an important day, as a blushing bride know your mind must be focused on finding the bridal gown you've been dreaming of since you were a little girl.
4. Trust your consultant. Their job is to know all the kinds of layers and linings in a bridal gown to best flatter your body type to make sure you look as stunning as possible. Remain open-minded to try on suggested wedding dresses they present to you that you maybe would not have chosen for yourself. What they showcase may not look ravishing on the hanger but trying it on, you could easily all in love-again.
More times than not, consultants open young brides eyes to different styles that are often overlooked.  The "princess" gown is a type of wedding gown brides are most familiar with. Another style called "hanger dresses" is style of bridal gowns made with very fine layers and on the right bride looks very elegant and sophisticated.
5. Take Notes while shopping. Having tried of so many dresses this day can become a blur to remember your favorites. We suggest even having a second pair of eyes from one of your trusted shopping gals to write down and check the designer and color. Often colors can be different depending on the designer. A popular color is "diamond white," also known as "silk white," and "light ivory". Be sure to jot down the style number, price, measurements and number of fittings and important delivery dates.
On this momentous and exciting day, remember if you have to be reassured or simply cannot envision yourself walking down the aisle in a dress, move on to the next "one". Just like how you felt about your husband-to-be, you'll know it when you see it! With these helpful steps, it will be easier to say "yes" to that perfect wedding dress waiting for you!