Wedding Trends: How To Plan The Best Engagement Photo Shoot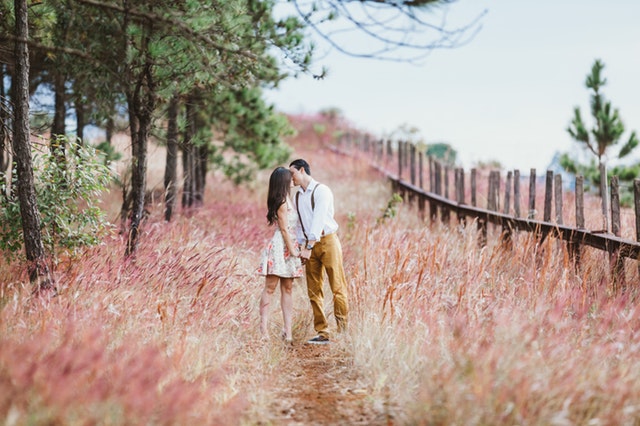 Whether recently engaged one week, one month or one year, your engagement photo shoot is one wedding planning event most couple happily anticipate. Often, you will want to select one of your model-worthy images for your save-the-date cards. Your engagement shoot serves as a time to get to know your wedding photographer. If the photographer can beautifully capture all your love through a lens, your wedding day photos will be that much more stunning.
With new trends emerging, the wedding planners at The Manor share what makes for the best engagement shoot, with ideas from including your pets to a scenic backdrop. Before you say cheese, follow these tips for picture worth a million words.

Popular Photo Shoot Location
For the best photos, your engagement shoot location should be a location that is meaningful to you and your partner. Perhaps you met in college, go to the movies often, or have a favorite scenic destination you enjoy visiting. Depending on the season on which you book, typically couples set up their photo shoot to play off the season in which they will wed. Even if couples will have a summer wedding, the couple can shoot in early spring, late winter and have a beach photo shoot. For an autumn engagement photo shoot, props like blankets and scarves enhance photos and allow for cuddling to capture the warmth of your love.
Places To Shoot Outdoors
Ideal outdoor locations ideas can include the beach, the park usually with a bridge, a waterfall backdrop, a mountain, a forest, a vineyard, a field or a barn. Typically beach engagement photo shoots feature the beautiful waves, as couples are often captured walking barefoot wistfully across the beach with their toes in the sand. Couples can book their engagement shoot at sunrise or sunset for an even more breathtaking backdrop. An open field in the park often involved art direction from the photographer as couples frolic through the park.
Similarly, Parks with blossoming flowers, benches and gazebos are ideal for a springtime engagement photo shoot. If you seek a different feel, a wooded area of a park can be a unique space to shoot your engagement photos because it adds mystery. Did you know that photos taken at a vineyard can feature in the rows, surrounded by the grape vines have a mystical feel, and can make the couple appear happy and relaxed? A barn is a perfect place for a country themed engagement shoot. The rustic look of the barn will be an amazing backdrop for your photos.
What To Wear For Your Photo Shoot
One emerging wardrobe trend in engagement photos is for the bride-to-be to wear white before the big day. The elegance and purity that comes with a white dress remain unparalleled. Another trend on the rise is matching outfits to the theme of the photo shoot. For example, for the country-themed engagement, the couple could wear flannels, jeans, and cowboy boots. Engagement photos can look comfy and casual by pairing jeans with a sweater or elegant with heels and a dress; the choice is up to the couple. Brides-to-be. Be sure to have your hair and makeup Remember you can always bring a change of clothes for multiple shots.
How To Add Props
A current popular involves using chalkboards to hold up your upcoming wedding date a custom message such as "Future Mr. & Mrs.," "We're Engaged!" Or "She Said Yes!" You can prop up the chalkboards on a display, hold the board, or hang it nearby, and if you have a pooch, feel free to place it around their neck and feature your pet in the photo.
In addition, a cutout ampersand symbol is currently a trendy prop for engagement shoots. The couple could be holding up the ampersand or it could be strategically placed in post editing. The ampersand has the meaning of togetherness and the connection of two things becoming one.
From This Day Forward
You should remember your engagement photo shoot with a gleaming smile! As a leading New Jersey wedding venue with over 20 acres of manicured lawn, magnificent water features, and bright colors, The Manor serves as a beautiful location for your engagement shoot. Contact the wedding planners at The Manor today to create your ideal photo shoot and dream wedding today.