How To Add Bridal Fashion and Style To Your Wedding Day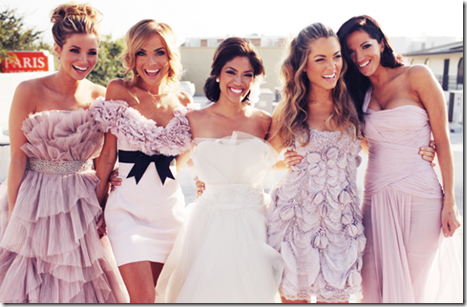 A typical wedding combines timeless family tradition, culture, and societal norms. Still, many brides include subtle ways to make their wedding day stand out from the norm. While the wedding ceremony highlights tradition, many opportunities in bridal fashion and style allow brides to showcase their own personalities on their wedding day. The wedding planners at The Manor offer wedding planning style tips to make any wedding celebration memorable and one-of-a-kind.

Why Choose Mismatched Dress Styles?
For some brides, selecting one style for bridesmaid dresses can become monotonous. Instead of selecting one color and cut, why not choose a variety of bridesmaid dresses to shake up the tradition? Mismatched bridesmaid dresses are a fun trend that bridesmaids will certainly appreciate; it diminishes countless trips to bridal salons in search of that perfect dress, as well as visits for fittings. Furthermore, giving your bridesmaids the freedom to select a dress they will wear after your wedding is cost-effective; especially since approximately 90% of bridesmaids dresses sit retired in closets post-wedding.
Opting For All Bridesmaids in One Color with Different Cuts
Mono-colored bridesmaid dresses are a sure way to keep a cohesive look while offering your bridesmaids the most flattering style for their body type. One thing is for certain, women come in all shapes and sizes, and so one style won't look perfect on everybody in your bridal party. Some women may be tall and thin, while others are most curvaceous. But by having all your bridesmaids wear the same color and shade with the most pleasing cut, ensures all women whether pear-shaped, apple-shaped, or hourglass figured, will be ravishing the day of your wedding and in the all photos.
Popular color shades that look fabulous no matter the cut and style include mint, grey, taupe, lavender and pale pink. Darker color options include eggplant, black, merlot, scarlet and hunter green, yield royal elegance and are all fabulous choices.
Light To Dark: The same dress style in varying shades is dazzling. An ombre effect can look absolutely stunning from giving the guests at the ceremony a fashion show, to lining up for pictures in a gradual color spread. If you opt for a light to dark color palette, be sure to select the best shade for each bridesmaid. Consider basing the color on bridesmaid's complexion and hair color to best flatter each woman.
Mix It Up: While it may seem like an easy feat, selecting a universal mismatched look for your bridal party fashion statement is no ordinary feat. This option requires elaborate planning to ensure there is a unifying factor whether it's the same print, material, color, or cut.
Guidelines For Mismatching Bridesmaid Dresses
With the idea that bridesmaids can choose their own dresses, brides should create fashion guidelines so the entire bridal party looks somewhat cohesive with the wedding theme. Brides-to-be may still opt to keep a monochromatic color palette, doing so ensures bridesmaids will all be aesthetically consistent while remaining unique. On the contrary, the point of similarity can be the style of the dress. For example, agreeing to wear floor length floral pattern dresses will allow bridesmaids to shop their own style while remaining consistent. Be sure to agree on the level of formality, so a romper isn't next to an evening gown. When it comes to giving the bridal party freedom to shop, communicate clearly regarding what is acceptable, and appropriate fashion and style for your big day. Additionally, if you are still looking to bond over a girls outing keep dress shopping a collaborative effort.
Add Color To Your Wedding Gown
Wearing white on your wedding day is an old age tradition representing purity. But, brides today are trading in a white wedding gown for shades of pale pink, glimmering gold, light lavender or sparkling pewter for a subtle change to traditional white. Bold brides may even make a statement with their colored gown by wearing a palette if vibrant colors.
Wedding planners and stylists understand how the idea of an entirely colored gown may overstep tradition; so many brides compromise by adding a splash of color to their gown's sash. When choosing a colored sash, be sure that the color is appropriate for the season of the wedding. Burnt reds, oranges, and rich yellows compliment fall weddings whereas pastels such as lavender compliment springtime ceremonies. Be sure to select muted tones as a splash of color goes a long way when contrasted against a white dress. Adding a fresh tone of color to traditional bridal wardrobes is the perfect way to add personality to your wedding day.
Here Comes The Bride and Bridal Party
Your wedding day is days to not only express your love and devotion to your lifelong partner, it is also a time to express your unique personality and you can easily do this through your bridal fashion. When planning your bridal style, do not be apprehensive about ditching tradition and highlighting a non-tradition bridal part. So long as each bride and her bridesmaids establish a budget and convey their opinions, your big day will be unforgettable.
Creating a wedding with the perfect balance of tradition and flair can be challenging, but the wedding experts at The Manor look forward to creating your happily ever after. Upcoming wedding? Contact a top New Jersey wedding venue near you today.