How to Plan a Bridal Shower in 2021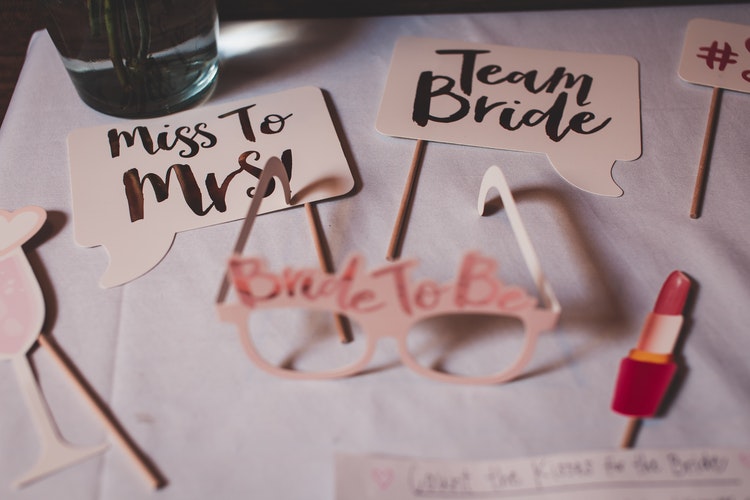 Many factors come into play when organizing a bridal shower such as location, guests, and how to pay for the event. To complicate matters even further, trying to plan a traditional bridal shower in 2021 seems impossible. While the situation may not be ideal, there is still a multitude of ways to make the most out of celebrating your upcoming wedding day. You've got questions about bridal showers, and we have answers! Here are three great options for hosting a bridal shower this year, while still adhering to COVID-19 guidelines.
1) Organize a Drive-by Bridal Shower
A drive-by bridal shower provides the perfect opportunity to celebrate the momentous occasion from a safe distance. At a drive-by bridal shower, cars jam-packed with guests line up in front of the bride's house and deliver gifts through the car window. With the right tools, you can give your home a complete makeover with decorations to fit with the celebration.
For example, you can utilize balloons and streamers with gorgeous colors to add some festivity to your bridal shower. You can try building a balloon garland around your front door or garage door, and hang streamers around your front porch. Alternatively, you can hang up a banner or yard sign to show off the event. Another way to personalize your bridal shower involves encouraging attendees to creatively decorate their cars. You can even make a table with some extra decorations in case some guests need them. Just imagine your guests arriving in style!
Don't forget to gift your guests with a fun treat or favor! They helped make the celebration extra special, so you should show them some love in return. Brides seem more creative with the favors they serve up these days, but you don't necessarily have to re-invent the wheel. Some clever ideas for bridal shower favors include custom photo calendars, personalized key chains, engraved wine glasses, delectable desserts, and decorated hand sanitizer bottles.  Even better, your favors can double as cute decorations until the celebration ends.
On the whole, a drive-by shower is a good option to take to celebrate your upcoming wedding with your closest loved ones without breaking COVID restrictions!
2) Arrange a Virtual Bridal Shower
While a virtual bridal shower is not the ideal situation, there are still ways to make the most of it! Because it's virtual, you'll be able to celebrate with all of your loved ones, without worrying about abiding by COVID-19 guidelines.
There are a lot of amazing options for personalizing your virtual bridal shower. One adorable method that you'll love involves creating attractive virtual backgrounds for Zoom for your guests. Websites like Canva offer great options for designing a virtual background that can perfectly embody your wedding theme. Another awesome way to personalize your virtual bridal shower is by sending out a care package before the event. In the care package, you can set clear instructions that it should not be opened until the day of. Include traditional favors, and some other interesting items that you can utilize throughout the Zoom. Whether that's props for a virtual photoshoot or the tools for a virtual game, the package will allow for your guests to come together with something similar.
Overall, a virtual shower offers an opportunity for you to circumvent strict COVID restrictions, and still connect with your guest on an intimate level.
3) Host a Small-scale Bridal Shower
Have no fear! There are still options for you to celebrate with your friends in-person. New Jersey COVID-19 guidelines stipulate that general indoor gatherings must be limited to 10 people and that all attendees must wear face coverings and stay six feet apart. So, if space in your home allows, you can host there. If not, there are still plenty of beautiful venues with private rooms that you can rent to celebrate safely, and in a more traditional manner.
While you cannot play all of the traditional bridal shower games, you can always opt-in for socially distanced games, like a modified version of the Newlywed Game. On the original classic show, four newlywed couples competed for prizes by answering questions about their relationship. To modify the game to better suit your bridal shower, have one of your close friends interview your fiancé beforehand. Next, at your bridal shower, have that same friend ask you how you think your fiancé answered. Guests can guess how many questions you'll get right and the winning guests can win a prize for their impressive guessing!
As long as you don't mind scaling back your guest list and substituting in different games, a small-scale bridal shower may be your optimal choice!
So, while you may not execute the bridal shower you originally envisioned, there are still a lot of ways to turn your event into your dream shower! Need help planning your bridal shower? Knowles Hospitality's expert event planners can help. Contact us today to schedule a meeting with our renowned wedding planners.